Dal makhani is the love of vegetarians in the Northern regions of India. Dal makhani recipe involves different types of pulses like rajma, urad, and chana dal.  Some dal makhani recipes also use garbanzo beans (chickpeas). Literally meaning 'buttery dal', the tadka of the dal makhani gives it the unique taste this dish is known for.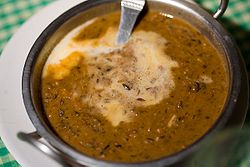 Ingredients:
150 grams whole urad dal
50 grams rajma (red kidney beans)
50 grams channa dal
10 grams ginger, peeled and finely chopped
3 cloves garlic, finely chopped
2 green chillies, finely chopped
Salt
Tadka:
50 grams ghee (clarified butter)
1 tsp cumin seeds
3 cloves garlic. finely chopped
1/2 tsp fenugreek seeds
Pinch of asafoetida powder
100 grams tomatoe puree
100 grams butter
30 ml cream
1/2 tsp chilli powder
1/2 tsp garam masala powder
Method:
1. Soak the pulses overnight. Boil the pulses with ginger, garlic, salt and green chillies. Simmer until pulses are tender.
2. Now, drain the excess water. Mash the pulses lightly.
3. Heat the mashed dal to come to a boil. Meanwhile, make the dal tadka.
4. Dal tadka brings dal makhani to life. Heat ghee in a pan. Add the cumin and fenugreek seeds until they crackle.
5. Add garlic and saute. Next, add asafoetida powder, and tomato puree and stir.
6. Add the tadka to the boiling dal makhani and mix well.
7. Now add the butter, cream, chilli powder and garam masala powder. Simmer for about half an hour. Adjust the seasoning.
Your dal makhani is now ready to serve.