Here is a delicious mango recipe you can put up on your list for this mango season. Mango trifle pudding looks beautiful, and is a divine indulgence. You can add in apples or strawberries as well if you like. You can make this and store in the fridge as well. Moreover, it is an easy mango recipe that's ready within minutes. Try it out and let us know! 🙂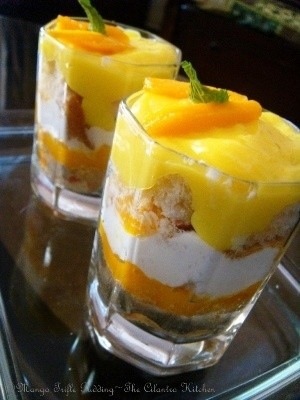 Ingredients:
1/2 cup sugar syrup
Mango jam (as per required)
4 alphonso mangoes (pulp)
1/2 kg sponge cake
2 alphonso mango (peeled and finely chopped)
1 alphonso mango (peeled and cut into thin slices for decoration)
For the Custard:
1 ½ liters milk
5 to 6 tbsp custard powder (vanilla flavor)
12 tbsp sugar
few drops mango essence
Method:
For the Custard:
Boil the milk on a medium flame. After 2-3 boils, add sugar and mix well. Boil for few minutes till the sugar dissolves completely.
Dissolve the custard powder in 1/2 cup cold milk and gradually add it to the milk, stirring continuously with the other hand to avoid lumps.
Boil till you get a thick pouring consistency. Cool completely and add a few drops of mango essence. Refrigerate it for 2-3 hours.
For the Trifle Pudding:
Make the custard in advance and refrigerate it.
Cut the sponge cake horizontally into two halves. Moisten one half of the cake with some sugar syrup. Place this moistened half of the cake in a rectangular or square tin or a glass dish.
Pour some custard on the cake till the cake is well covered. Then spread a layer of mango jam on it.
Top it with a layer of mango pulp and some chopped mango pieces.
Moisten another half of the cake with some sugar syrup and place it on the first half.
Again pour some custard on it. Arrange the remaining mango pulp with some mango pieces on it.
Cover this with the remaining custard and decorate with thin mango slices.
Refrigerate for 3-4 hours.
Your mango trifle pudding is now ready. Serve chilled.