This is the closest recipe to dhaba style Kadhai Paneer. The cumin seeds and dried fenugreek leaves add a distinct flavor to the dish. The key is to sauté the gravy ingredients before blending. They ooze flavor as the onions and tomatoes blend into a smooth paste while the high-flame sautéing adds a 'kadhai' like aroma. Yes, you have to be a little liberal with oil. For a more authentic flavor, use ghee or clarified butter.

Click here

to try other paneer recipes on Cukzy especially the

Dhaba Style Paneer Masala Gravy Recip

e

as well.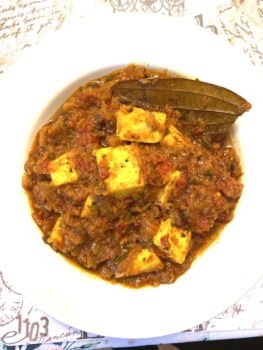 Ingredients:

Marinate
300 grams paneer
1/4 tsp red chilli powder
1/4 tsp salt

Sautée:
1 small/medium onion, cut into small cube
1 green bell pepper / capsicum, cut into small cubes

Gravy:
2 cloves
8 black peppercorns
1 mace (javetri)
2 green cardamom
1 black cardamom
1 cinnamon stick
2 tomatoes, roughly chopped
3 green chillies (adjust acc to taste)
1 tbsp ginger-garlic paste
1 medium-sized onion, sliced
1 tbsp cumin seeds
1 tsp salt
1 tsp red chilli powder (add half tsp more if you'd like it to be spicy)
1 tsp coriander powder (dhania powder)
1/4 tsp turmeric powder (haldi)
1 tsp kasoori methi (dried fenugreek leaves)

Method:
1. Marinate paneer for about 15 minutes.

2. Sauté the cubed capsicum on high in 1/2 tsp oil for 1 minute. Keep aside. Sauté the cubed onions in the same way and keep aside.

3. Sauté the marinated paneer in the same oil till the spices on the paneer have cooked. Keep aside.

5. Heat 1 tbsp oil and add the whole spices. Add the sliced onions and fry for 2-3 minutes on high heat till the onions soften.

6. Add the ginger-garlic paste. Sauté for 10-15 seconds. Add tomatoes, green chillies, and 1 tbsp cumin seeds. Cover and cook on medium heat for about 2 -3 minutes or till the tomatoes have softened. Keep aside, cool, and grind to a fine paste.

7. Heat 1 tbsp oil and add the powdered spices and salt on low heat and sautée the spices for about 30 seconds.

8. Add in the ground paste and mix everything well. Cover and cook on low heat till oil separates (3 – 4 minutes). Add a few tablespoons of water if the paste is sticking to the pan.

9. Add the sautéed capsicum, onions, and paneer. Mix lightly to prevent the paneer from breaking. Add in the kasuri methi. Mix everything well. Cover and simmer on low for about 3 minutes. Add 1-2 tablespoon of water if the gravy is too thick.

Garnish with coriander leaves and serve with naan or roti.