This dish is a result of nostalgia. I had my dhaba adventures during my college years. My favorites were aloo parathas with achar and onions, veg and paneer kadhai, and phulkas. Every dish at a Dhaba is AMAZING!

This Dhaba Style Paneer Masala recipe is the best paneer recipe I've cooked so far. Two things are key to dhaba style food: Use ghee or white butter (Desi Makhan) or liberal amount of oil; vigorous stir frying (bhunna) throughout the cooking process. Stick to these and you'll get Dhaba Paneer at your home. Dhaba style food is also pungent so you can adjust the spice level according to your taste. Try the Paneer Tikka Masala Recipe as well.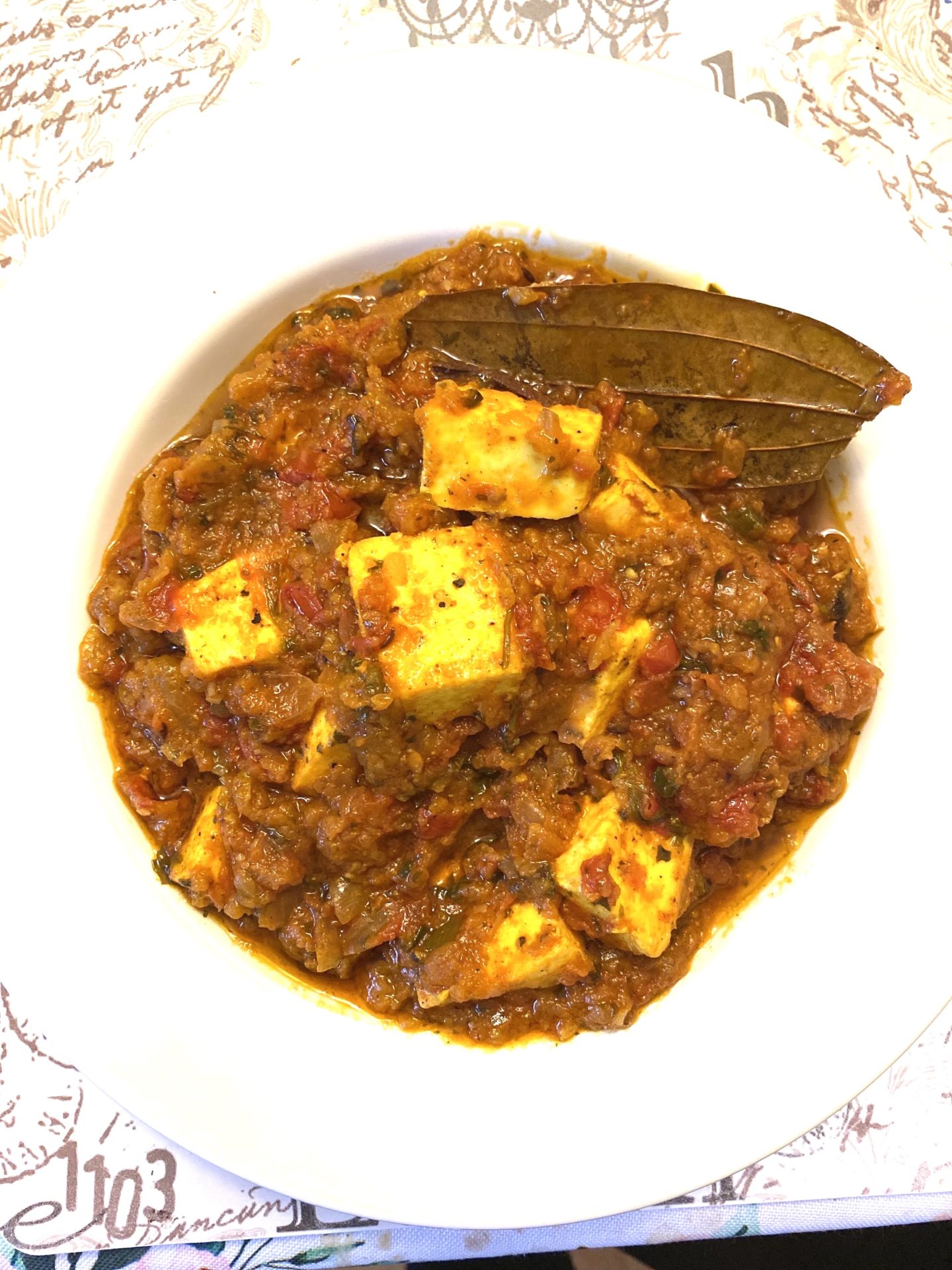 Marination:

500 grams paneer, large cubes
1 tsp red chilli powder
1/2 tsp turmeric powder (haldi)
1/2 tsp black pepper powder
1/2 tsp garam masala powder
Salt to taste

Masala:

4 medium-sized tomatoes, peeled and pureed
2 medium-sized onions, finely chopped
1 tbsp ginger-garlic paste
1 cup coriander leaves
1 tsp kasoori methi (dried fenugreek leaves)
2 bay leaves
1 tsp red chilli powder
1/4 tsp turmeric powder
1 tbsp coriander powder
1/4 tsp garam masala powder
1/2 tsp black pepper powder
2 inch cinnamon stick (broken)
4 green cardamom (crushed)
1 tsp cumin seeds
1 tsp salt

Method:

1. Add the paneer and all the marinade ingredients in a bowl. Toss the paneer or mix gently with hands to coat the paneer evenly with all the spices. Paneer breaks easily. Keep aside.

2. Heat 2-3 tbsp oil on low flame. Add 1 tbsp desi ghee or butter. If you don't have these, use the regular ghee / butter.

3. Add the cumin seeds, cardamoms, and cinnamon stickes. Sautée till they turn light gold. About 5 seconds.

4. Add the onions and stir till the onions turn light golden. Once done, add the ginger-garlic paste. Stir fry on high for a few seconds.

5. Reduce the heat and add the spice powders, salt, kasoori methi, and half of the coriander leaves. Mix everything well and stir fry for about 30 – 40 seconds so that all the spices have combined.

6. Add the bay leaves and tomato puree. Sautée on low to medium heat for about 5 minutes. Keep stirring.

7. Cover and allow to simmer on low heat for about 3-5 minutes.

8. Meanwhile, add 1 tbsp ghee / butter in another pan. Add the marinated paneer and sautée on low heat. Fry the paneer cubes on all sides for about 2 minutes.

9. Add the fried paneer to the simmering masala. Reduce the heat to low and mix everything gently. Add 1/4 cup water, cover, and simmer on low for 5 minutes. If you like the consistency of your paneer masala, you can skip adding the water.

10. Turn off the flame, when the water has evaporated and oil surfaces. Give it a light mix, add the chopped coriander leaves, and serve.

Pair it with naans or rotis. Butter naans are the best!