Here is the winner of Cukzy Contest – Asma Maghrabi's own version of eggless, no-bake strawberry cheesecake. Asma is an at-home mom of three whose lives revolve around desserts. Chef Jawad's verdict – 'unique and viagrapill simple'. 
Having kids and teenagers in my family, chocolate and cheese are the main ingredients in most of my desserts. Here is one of my kids' favourites. ENJOY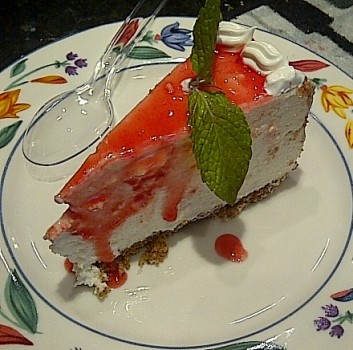 For the base:
200 gms Marie/any biscuit crumbled,
1 cup chopped roasted nuts
150 gms melted butter
1/2 cup sugar powder
For the filling
Ingredients A:
600gms cream cheese
1 tin 400gms Condensed milk
200gms cheese spread
half cup sugar powder
1/2tsp essence any
Ingredients B:
5-6 tbsp gelatine, dissolved in 3/4 cup water in double boiler
500gms whipped cream
To Garnish:
Strawberry crush, mint leaves, extra cream.
Method:
1. Prepare the base. Mix the ingredients and layer onto the base of a spring form baking tin.
2. Beat the ingredients A till smooth.
2. Gradually, pour in the gelatine in a thin stream.
3. Fold in the whipped cream.
4. Pour the batter in the prepared layered tin.
Garnish as wanted with strawberry crush, whipping cream, and mint leaves. Chill till set – at least for  1 hour)