I was kept away from Mc Donald's for a couple of months since I had to strictly avoid outside food. To satisfy my craving for fast food, especially Mc Donald's burger, I decided to make it at home. I diligently searched for a look-alike recipe of McChicken on the internet but the variety just confused me. Of course, everyone has their own take at burgers. Some prepare patties, while some use the chicken breasts/ thighs. I wasn't in mood for a long, time-consuming recipe. Eventually, I just made this burger my way. Since everyone loved it and I gorged on it, I think it's the perfect alternative if you aren't able to eat fast food outside. Sharing with you and hoping you like it 🙂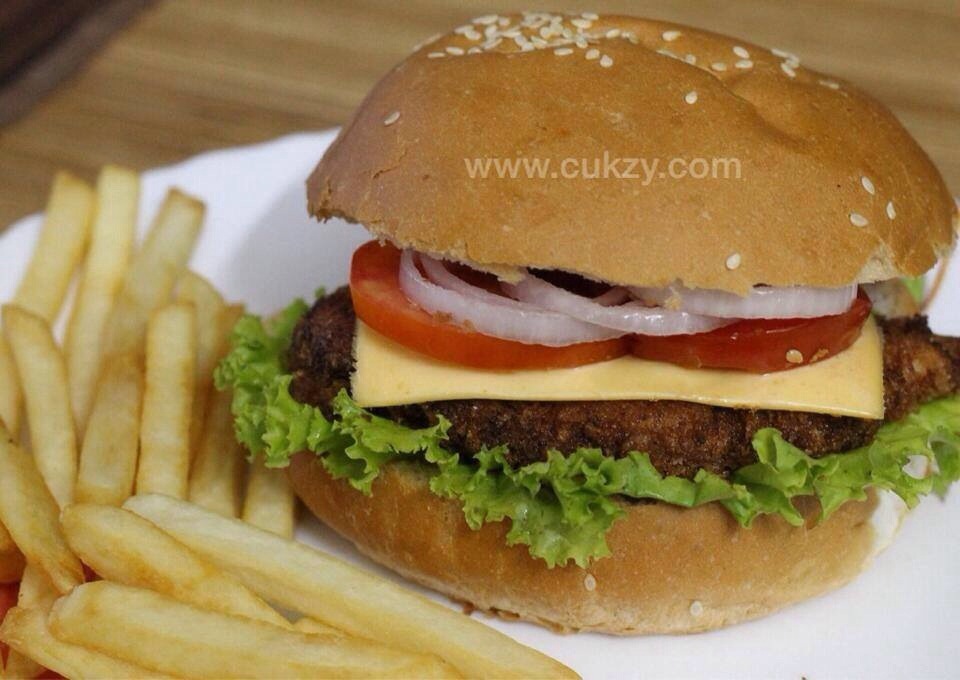 Ingredients:
2 large chicken breasts, boneless and skinless
2 tsp red chilli sauce
125g of flour
2 eggs
100 grams breadcrumbs
Salt and pepper
Method:
1. Take one chicken fillet and cut in half horizontally into two thin, equal sized fillets. Repeat with the other fillet. Use a rolling pin to pound the chicken flat.
2. Season the pieces evenly with salt and pepper. Coat the chicken pieces in red chilli sauce. Keep aside for about an hour.
3. Put the flour, whisked eggs, and breadcrumbs in separate bowls.
4. Heat oil in a deep frying pan on medium heat. Lightly coat each chicken piece in the flour, then dip it in the egg draining off the excess, and coat well in breadcrumbs. Reduce the heat to low to avoid browning of bread crumbs before the chicken is cooked.
5. Remove the chicken and keep aside on kitchen towels to drain excess oil.
Prepare your Burger:
Slice open a burger bun. Spread ketchup (I like mixing in a little tabasco sauce with tomato ketchup) on the bottom bun, place a lettuce leaf, then the chicken fillet, cheese slice, thinly sliced tomatoes, and onion rings. Spread a good heap of mayonnaise on the inner side of the top bun (obviously!) before you seal your burger.
Enjoy a happy hearty burger! 🙂