We love to have light meals in summer. Famous are summer salads and fruits. We dig for a variety of salad recipes, trying out different ingredients. Vegetarians want to give a shot at different types of cheese, herbs, vegetables, and dressings. Non-vegetarians try out healthy salad recipes that include meats like chicken and tuna. In short, salads are the way to beat the heat. Watermelon Fetta Cheese SaladSalad, Chicken and Ginger Salad, and Potatoes in Tahini Sauce are a few salad recipes on Cukzy which you can try in summers.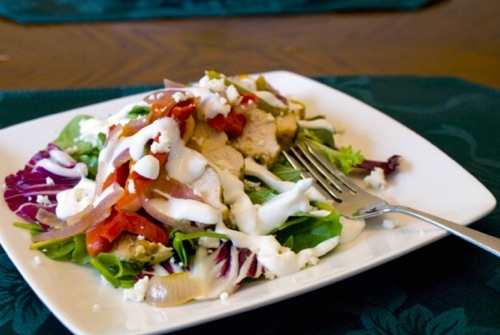 Ingredients:
500g chicken or beef, boneless and julienned
Mustard sauce
Paprika or red chili powder to taste.
Marinade:
½ tbsp pepper
½ tbsp garlic powder
1 tbsp salt
5 tbsp tomato ketchup
¼cup lemon juice
1 cup oil
For the garden fresh salad:
A few rocket leaves, spinach, lettuce, red lettuce
1 cup of cheddar slices julienned.
Method:
Whisk the marinade mixture and marinate the chicken for 10 minutes with it.
Grill or pan fry the chicken in about a tablespoon of oil.
Arrange the chicken on a bed of garden fresh salad.
Sprinkle the paprika and mustard sauce before serving. You can replace the mustard sauce with sour cream if you like