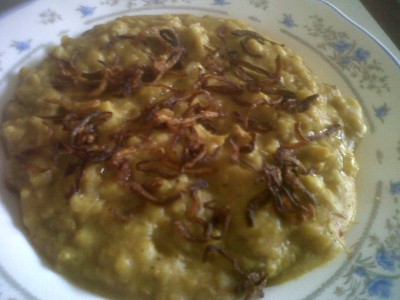 A khicda is an Indian One dish meal, it is a mixture of wheat, rice, meat and all kinds of dal. just this one dish can replace the different meals prepared for lunch or dinner.
Ingredients:
1 kg whole wheat
1 kg meat
½ kg mixed dal (moong, chana, maash/urad, toor, masoor and rice)
Barista of 4 onions
2 onions chopped
Oil for making barista (use same oil elsewhere)
1½ tsp haldi
2 tbsp each of ginger and garlic paste
2 tbsp coriander powder
2 tbsp cumin powder
2 tbsp Red chili powder
2 tomatoes cut into 4 pcs each
1 tsp garam masala
1 tbsp Coriander leaves chopped
1 tbsp mint leaves chopped
Method:
1. Wash and soak the wheat and mixed dal together, overnight.
2. Next morning, transfer the soaked wheat and dals into a pressure cooker along with salt, 2 tbsp oil and ½ tsp haldi. Let it cook for an hour on low flame, with the pressure being released 3 to 4 times.
3. In another vessel, add about 6 tbsp oil. When warm, add the chopped onions and sauté till they caramelize.
4. Add in the ginger and garlic paste, salt, haldi and then the mutton. Let it cook till the water dries out.
5. Add the tomatoes, coriander powder, cumin powder and red chili powder.
6. Add ½ cup of water and cook for some time till you can see the oil and until the meat is tender.
7.  Lightly beat the wheat and dal mixture. Make sure you do not make a paste. Transfer the ingredients of the cooker over the mutton and mix it well.
8.  Sprinkle the garam masala, coriander and mint leaves. Mix them and cook for 5 minutes.
To serve, pour the desired quantity in a serving dish and top by sprinkling 2 to 3 tbsp of hot oil, barista and some lime juice.