Chocolate cupcakes are mouth-watering, delicious, and pretty. They are one of the most sought after desserts to serve at a party. Here is an easy chocolate cupcake recipe to treat yourself. You don't need to be a pro to make these. The chocolate fudge frosting is another reason for all the chocoholics to try out these chocolate cupcakes. I am sure they are irresistible. 😉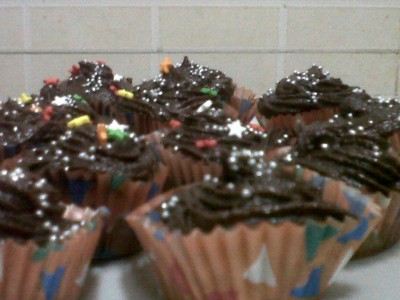 Ingredients:
For chocolate cupcakes:
½ cup or 50 gm unsweetened cocoa powder
1 cup boiling hot water
1 1/3 cup or 175 grams all purpose flour, sifted
2 tsp baking powder
½ cup butter, salted, room temperature
1 cup granulated white sugar
2 large eggs
2 tsp vanilla extract
For the chocolate fudge frosting:
120 gm unsweetened or semi sweet chocolate, coarsely chopped
2/3 cup or 150 gm butter, room temperature
1 1/3 cup or 160 gm powdered or icing sugar, sifted
1 ½ tsp vanilla extract
Method:
For Cupcakes:
Preheat the oven to 190 C (375 F). Line the muffin cups with paper liners and keep them aside.
In a small bowl, mix together the boiling hot water with the cocoa powder till it is smooth. Cool.
In another bowl, beat the butter and sugar until it becomes fluffy and light.
Add the eggs, one at a time, beating until smooth.
Pour in the vanilla extract. Add the sifted flour and beat until mixed well.
Add the cooled cocoa mixture and stir until smooth.
Fill 2/3 of the muffin cups with the batter and bake for about 15 to 20 minutes or until it rises. Check if it's done by inserting a toothpick.
Remove from oven and let them cool. Once cooled, frost with icing.
For Frosting:
Melt the chocolate in the microwave or a double boiler. Remove from heat and let it cool to room temperature.
Beat the butter until it is smooth and creamy. Add in the sugar and beat again for about two minutes until it is light and fluffy.
Beat in the vanilla extract and add the chocolate. Beat lightly initially. Then increase the speed and beat for 2 to 3 minutes until it is smooth and glossy.
Use a star tip to make swirls on the cupcakes.
Though they are best on the day they are made, they can be covered and stored for a few days.
Enjoy!