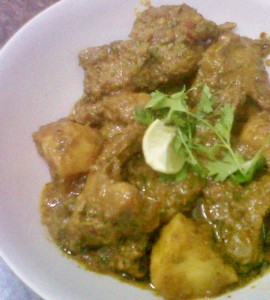 Lamb chops is widely known as chaanp in the subcontinent. Masala chops are cooked in different styles by people residing in different places. Masala chops could be dry and served as an appetizer or a gravy that could be served as a main course. Here is a lamb chops recipe that you'd enjoy as a main dish.
Ingredients:
1kg lamb chops washed and extra fat removed
250g curd
3 – 4 tbsp oil
Barista of 3- 4 medium sized onions
2- 3 potatoes peeled and cut into 4 pieces, fry and keep aside
2 to 3 curry leaves
2 tsp roasted red chili powder
2 tsp roasted cumin powder
2 tsp roasted coriander powder
1 tsp turmeric powder
½  tsp garam masala powder
1 tsp ginger garlic paste
2-3 green chilies chopped
Some chopped coriander
Salt to taste
Juice of half lime
Method:
Heat oil, add the curry leaves, then the chops, and simmer for 3 to 4 minutes.
Meanwhile in a bowl mix together the curd, ginger garlic paste, salt and all the powdered masala.
Add the mixture to the chops along with half cup of water.
Stir and cook till the meat is almost tender. Crumble the barista and add to the meat. Stir well.
Add the fried potatoes, green chilies, chopped coriander and lime juice cover and cook till meat and potatoes are tender. Cook till it is semi- dry.
Serve lamb chops hot, with naan or chapati.