This recipe of chick pea and potato is a chaat that is famously known as chana aloo or channa batata in Mumbai. Chana chat on your dinner table can be a tangy appetiser or, best, an evening snack. In any case, this chaat recipe is a perfect alternative to eating from the street side, which is not a very healthy and hygienic option especially during the monsoons. So here is a recipe that can be served as a side dish, a starter, or simply for snack time. 🙂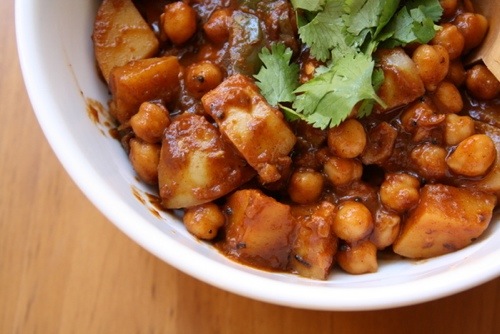 Ingredients:
250 gm chickpeas (black chana) washed and soaked overnight.
2 – 3 medium sized boiled potatoes
3 – 4 tbsp oil.
Pinch of mustard seeds (rai)
4 – 5 curry leaves
1/4 tsp turmeric powder
1/2 tsp cumin powder
1/2 tsp coriander powder
1/2 tsp red chili powder
2 tbsp of roasted and crushed spices ( whole red chili,cumin seeds and coriander seeds)
juice of one and half lime
1/2 cup chopped coriander and mint leaves
2 – 3 green chilies chopped
pinch of garam masala powder
Tomotoes, Onions and raw mangoes finely chopped (optional)
Method:
After soaking the chickpeas overnight, boil them till tender in a pressure cooker for about half an hour. Drain and keep aside.
Boil the potatoes, peel and chop them in small pieces, keep aside.
Heat oil in a vessel, add the mustard seeds, curry leaves, cumin powder, turmeric powder, coriander powder, red chili powder and the crushed spice mix.
Stir fry the masala for a minute or two. Add in the chickpeas, potatoes, chopped coriander and mint leaves, lime juice, garam masala and mix well.
Stir for a minute or two. Remove from heat and add in the chopped tomatoes, onions, along with raw mangoes.
Your chana aloo is now ready to dig in!