Here is the authentic chettinad chicken recipe. Chettinad recipes are known for their arresting spicy flavour. Made from freshly ground spices, Chettinad cuisine is mainly non-vegetarian. Here is a chettinad chicken curry recipe straight from the kitchen of a home chef.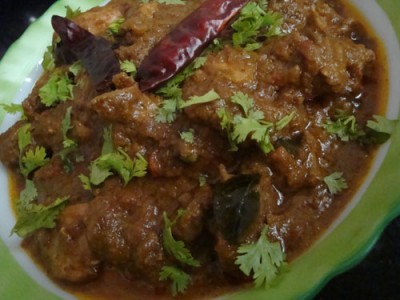 Ingredients:
Chicken – 1/2 kg
Large Onion – 100 gms
Tomato – 100 gms
Coriander Powder – 1/ tsp
Red Chilli – 5 (long ones)
Red Chili Powder – 1/2 tsp
For Tadka:
Oil – 1 tsp
Cinnamon – a little
Cardamom – a little
Clove – a little(3-4)
Turmeric – 1/2 tsp
For Paste:
Coconut Grated – 1/2 coconut
Poppy Seeds – 1 tsp
Fennel Seeds – 1 tsp
Roasted Gram(Buna Channa) – a little
Garlic – 5 pods
Ginger – 50 gms
Make a paste of ginger and garlic and the rest a paste separately.
For Garnish
3-4 tbsp fresh chopped coriander
Method:
1. Heat oil in a pan and add prepare the tadka. It can be made into a paste and also added onto oil.
2. Add red chilies, sauté it well, then add ginger, garlic paste to it.
3. Then add onion, tomato and cook till soft.
4. Add chicken and sauté for 10 minutes in the mixture to remove the meat smell from it.
5. To the half cooked chicken, add the paste, red chilly powder, coriander powder, turmeric powder, and salt. Allow to cook completely after 15-20 minutes by adding some water.
6. Unflame it when cooked well and garnish with the chopped coriander leaves.
Your chettinad chicken is now ready to serve!
This recipe is contributed by our reader, Meenakshi Ar. She writes a blog showcasing her mother's recipes.