Seekh Kebabs is one of the most famous delicacies from the Mughlai cuisine, and usually requires to be grilled or made in tandoor. All of this makes seekh kebab an occasional treat. Cukzy brings you an easy seekh kabab recipe that you can make at home, with a little trick for the smoked-charcoal flavour and aroma. One of the favourite Ramadan and Eid-ul-adha dishes, this kebab recipe is sure to drive your diners craving for more!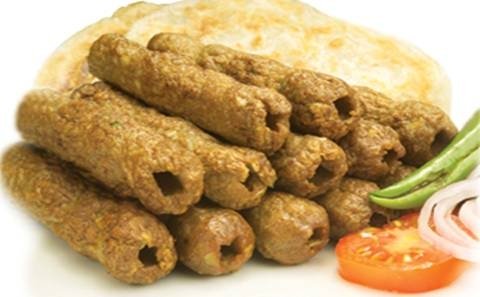 Ingredients:
½ kg kheema, completely drained of water
2 tbsp besan roasted
2 tsp coriander seeds
2 tsp cumin seeds
3 dried red chillies
1 tsp garam masala powder
Salt to taste
Juice of half a lime
5 to 8 finely chopped green chillies
1 big onion grated and squeezed of all water (use a muslin cloth)
1 tsp ginger paste
1 tsp garlic paste
Chopped coriander
¼ tsp meat tenderizer (optional – u can marinate meat in raw papaya for half an hour initially)
Oil for shallow frying
2-3 small coal-pieces
Method:
1. To the kheema, add all the ingredients and mix well and marinate for an hour (marinating is optional and better).
2. Make the seekh kebabs by rolling the kheema tightly over a skewer. If you don't have a skewer, you can use a pencil and make short seekhs. Slightly wet your palms and keep pressing the meat against the skewer or pencil.
3. Once the seekh is firm, gently slide it out from the skewer or pencil.
4. Shallow fry the seekh kebabs in oil, till perfectly done.
5. Lay the seekh kebabs in a dish. Burn the coal pieces over stove.
6. Place the burnt coals over the seekh kebabs. Drop in a teaspoon of ghee or clarified butter on the hot coals and cover immediately. This will lock the charcoal smoke inside, giving your kebabs a coal flavour and aroma.
Your delicious seekh kebabs are now ready. Serve with green or red chutney.