Here is another kind of mutton biryani recipe. Kebab biryani calls for some effort in the kitchen, but the result is delicious beyond imagination. The focus of most biryani recipes is on the masala, or korma, and on the layering. While preparing kebab biryani the focus is also on preparing succulent, juicy kebabs. Take extra care while layering. We have tried to make this biryani recipe as simple and comprehensive as possible!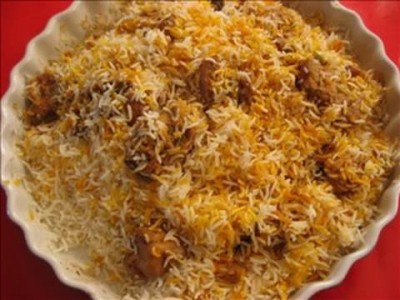 Ingredients:
For the kebabs:
Minced meat, ½ kg
Breadcrumbs, 2 tbsp
Green chillies, 5
Garlic paste, 1 tsp
Red chilli powder, 1/2 tbsp
Turmeric powder, 1/2 tbsp
Garam masala powder, 1/2 tsp
Salt to taste
For the biryani:
Rice, 1/2 kg
Tomatoes, 3 chopped
Onions, 3 (finely sliced)
Red chilly powder, 1 tsp
Garam masala powder, 1 tsp
Green chillies, 10 (finely chopped and deseeded)
Coriander leaves, 1/2 bunch (chopped)
Mint leaves, 1/2 bunch (chopped)
Dried plums, 1/2 cup
Caraway seeds, 1/2 tsp
Cinnamon, 3 sticks
Black cardamom, 3
Cloves, 4
Clarified butter, 1/2 cup
Oil for frying
Method:
1. Soak rice in water for 2 hours, then par-boil it.
2. Fry onions till golden brown and remove on paper towels. Divide in two equal portions.
3. Grind mince meat with rest of spices, garlic paste, and breadcrumbs in a food processor.
4. Make long kebabs. Keep them in a steamer for a while before frying.
5. For the biryani, heat some clarified butter in a frying pan. Add cinnamon, cloves and black cardamoms. Saute.
6. Now, add in the tomatoes, dried plums, red chilli and garam masla powder, salt, one portion of the fried onions, along with 5 green chillies. Saute well till oil separates.
7. Once done, divide this korma into 3 portions.
8. In a pot, pour in one portion of korma and top it with ½ of the rice.
9. Pour in another portion of korma over rice. Add some mint leaves, some fried onions, and remaining green chillies.
10. Make a layer of remaining rice on top and place the kebabs over it.
10. Lastly, pour in the third portion of the korma over the kababs. Add in the remaining mint leaves, coriander leaves, and fried onions.
11. Heat clarified butter, temper with caraway seeds. Pour over rice and keep on dum (tightly covered on low heat for about ten minutes, without disturbance).
Your Kebab Biryani is now ready. Serve hot with raita and sliced lemon.