The dinner plan was pizzas and pasta. This 'pizza sandwich' recipe was the result of a slightly weird situation in my kitchen – mood to prepare pizza, limited mozzarella cheese in the fridge, and two pizza bases. Preparing just one pizza would not be enough for my Mughlai-loving foodie family. So let's make a pizza sandwich. I flavoured the bases with a pinch of zaatar (I love zaatar with the bread family but of course its optional), placed layers of salami, a teaspoon extra of pizza sauce and it was done! The good news is everyone loved it! However, its important to avoid thick pizza bases, and not overload them with pizza sauce – either of these can ruin the taste. This pizza sandwich is a delicious variation to your homemade pizzas. Definitely worth a place on your dinner table!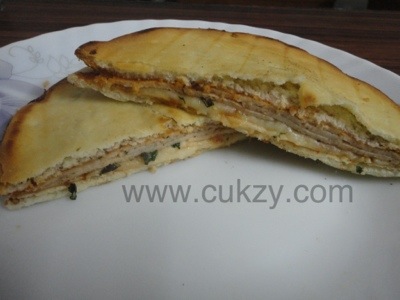 Ingredients:
2 pizza bases
1 packet mutton salami/pepperoni
1 cup grated mozzarella cheese
3 tbsp pizza sauce
1/2 tap of zaatar (optional)
Method:
1. Brush a little butter on both sides of the pizza bases. Sprinkle a little zaatar on one side of each base. Grill them in preheated oven. You can alternatively pan fry them.
2. Divide the pizza sauce equally and apply on each base (on the side with the zaatar of course). Sprinkle one pizza base with mozzarella cheese and place the salami on top.
3. Place the other pizza base on top of the salami. Grill for about ten minutes.
Done!