Patties with minced meat and mashed potatoes. This patties recipe does require some effort but is a really filling starter on the menu – which means you wouldn't have to make many. It's distinct from the usual cutlet recipes and deliciously combines the flavour of meat and potatoes.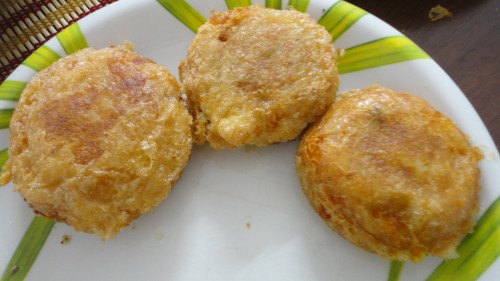 500 grams minced meat (chicken/mutton)
3 large potatoes, boiled and mashed
1/2 onion, finely chopped
1 tsp ginger-garlic paste
1 tsp red chilli powder
1 tsp coriander powder
1/2 tsp garam masala powder
2 green chillies, deseeded and finely chopped
1/2 tbsp black pepper powder
1 tbsp coriander leaves, finely chopped
2 eggs, beaten (optional)
Salt to taste
Oil for deep frying
Method:
1. Heat about two teaspoon oil in a frying pan, and fry the onions till slightly golden. Add in the ginger-garlic paste and saute.
2. Add the mince meat, red chilli, coriander, and garam masala powder, along with the green chillies. Allow the meat to cook in its own juices, till all the water has dried out and the meat has cooked.
3. Meanwhile boil the potatoes and mash them. Make sure the potatoes are not over boiled, as they tend to be sticky. To the mashed potatoes, add pepper, coriander leaves, and salt.
4. Flatten a ball of mashed potatoes on your palm. Place a tablespoon of minced meat in the center, and envelop it with the mashed potato. Make flat, round patties.
5. Dip in beaten egg and deep fry until golden brown on both sides.