Pulao are our saviours – especially when we have had a long day and want to fix a quick dinner. Vegetarian pulao is one of the healthiest and simplest rice recipes for a one-dish meal. Here is a delectable vegetarian pulao recipe that includes carrots and fenugreek (methi). You can easily moderate this veg pulao recipe, infusing it with vegetables like corn or potatoes.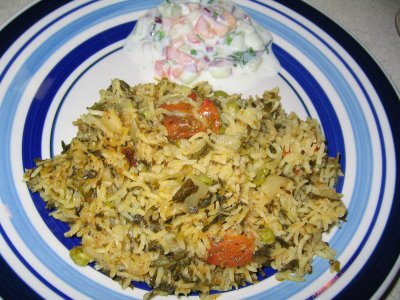 Ingredients:
Ghee (clarified butter), 1 tsp
Cumin seeds, 1/2 tsp
Cloves, 2-3
Onion, one medium-sized, chopped
Ginger garlic paste, 1 tsp
Tomato, one medium-sized, chopped
Carrot, one, chopped
Garam masala, 1 tsp
Fresh methi leaves (fenugreek), 1/2 cup
Fresh mint leaves, 1/4 cup
Fresh coriander leaves, 1/4 cup
Pinch of turmeric powder
Chilli powder, as per taste
Basmati rice, 1 cup, soaked for 30 minutes
2 cups water
Salt
Method:
1. Heat ghee in pressure cooker. Add cumin seeds and cloves.
2. When the cumin seeds splutter, add onion, ginger garlic paste, tomato and carrot. Saute for ten minutes.
3. Add garam masala, turmeric powder and chilli powder.
4. Add all the fenugreek, mint, and coriander. Make sure you have washed them properly. Saute for ten minutes.
5. Wash the rice, drain excess water, and add the rice to this mixture.
6. Stir well and add salt.
7. Pressure cook the rice mixture until done.
Your methi and carrot pulao is now ready to serve.