Tendli fry is a quick and simple sabzi which I usually like to pair with either sambar and rice, dal and rice, or rotis. Tendli, also called as tindora, are commonly used in pickles. You can add potatoes to the tendli fry if you like. The potatoes should be cut lengthwise as well – similar to wedges. If you like your tendli fry to be spicy, add 1/2 tsp garam masala instead of 1/4 tsp. You can also add in 2 sliced green chilies along with the spice powders. Try making Achari Tendli using the

Achari Bhindi

recipe.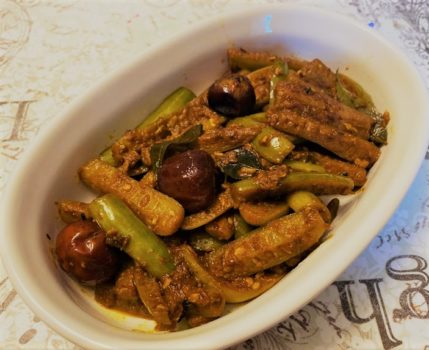 Ingredients:

250 gm tendli / tindora, sliced lengthwise
1 tsp cumin seeds
3 dried red chilies
5 curry leaves
1/2 tsp turmeric powder
1/2 tsp red chili powder
1/4 tsp garam masala powder
1 tsp lemon juice
1 tbsp oil
Salt
Method:

1. Heat oil in a pan. Add the cumin seeds and fry till they splutter. Add the dried red chilies, and curry leaves. Saute on medium heat for a few seconds.

2. Reduce the heat and add all the spice powder. Add in a tbsp of water to prevent the spices from burning.

3. Add the sliced tendlis to the pan and mix well so that all the pieces are coated in the spices. Season with salt and lemon juice. Cover and cook on low flame for 10 – 15 minutes.