I have cooked fried rice several times and each one has been an experiment to get the right restaurant-style fried rice we all love so much, and I have finally whipped one. There are 2 things to make the perfect egg fried rice – rice and stir-frying.
Rice: A key factor to make authentic fried rice is the type of rice you are using. Fried rice uses small-grained rice which is fluffy and doesn't form clumps. Jasmine rice is the perfect choice to prepare fried rice. It is fluffy, just sticky enough, and aromatic. Cold, leftover jasmine rice is best. If you are cooking fresh jasmine rice, make sure you have rinsed it well to wash off the starch and cooled it after cooking completely. Not hot, not warm – cooled.

Stir-frying: It is a well-known fact that Chinese food is prepared on high heat. All ingredients are arranged beforehand and added to the wok or skillet one by one, stirring continuously. Stir-frying on high heat uses less oil, allows vegetables to be tender yet crisp, and doesn't overcook the sauces. The only sauce used to prepare egg fried rice is the soy sauce. Instead of pouring soy sauce on top of the rice, pour it around the rice. The soy sauce sizzles infusing the rice with flavor and aroma.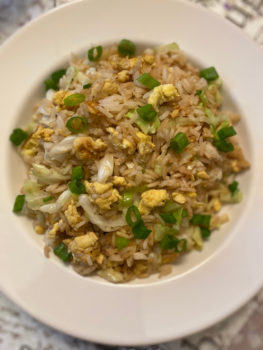 So, here we go with the restaurant-style egg fried rice recipe. You can flavor it with paprika, cayenne pepper, Sichuan chilies, or Sichuan sauce if you like your rice to be pungent. But don't skip the soy sauce. Pair it with Kung Pao Chicken, Honey Sesame Chicken, Orange Chicken, Baby Corn Manchurian, or Gobi Manchurian.

Ingredients:
1 cup jasmine rice (yields about 3 cups cooked rice)
3 – 4 eggs (depends on how much you want your rice to be loaded)
3 tbsp cooking oil
2 tbsp soy sauce
2 cloves garlic, minced
1 cup chopped spring onions / green onions

Method:
1. Cook the jasmine rice in 1 and 1/2 cup water with 1/2 tsp salt. Cook on low to medium heat covered for about 15 minutes or till the water has dried out. Set aside, covered, for 5-10 minutes. The rice should be soft and nearly sticky. Once done, uncover and cool.
2. Heat 2 tbsps of oil in a wok or a skillet and add the beaten eggs. Use a spatula to scramble the eggs while they are cooking. Once cooked, remove on a plate and set aside.
3. In the same skillet, heat 1 tbsp oil. Add the minced garlic and saute for a few seconds. Add the cooked, cooled rice, scrambled eggs, and black pepper. Stir lightly to combine everything.
4. Pour the soy sauce all around the rice and mix. I pour soy sauce around the rice instead of pouring it on top because when the soy sauce touches the hot skillet, it sizzles which infuses the rice with a soft aroma.
5. Top with chopped spring onions. Serve.