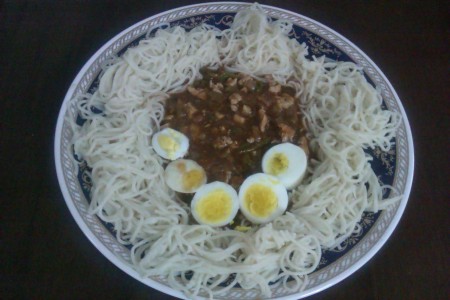 Ingredients:
Marinate:
1 chicken breasts, chopped finely into small pieces (You can alternatively use mutton mince or chicken mince – 250 grams)
2 tbsp soy sauce
1 tsp ground black pepper
Grind:
3 medium sized potatoes
2 small dried red chillies
2 shallots (optional)
Sauce:
2 tbsp oil
1 medium sized onion, finely chopped
5 cloves of garlic, finely chopped
1 tsp ginger juliennes
1 green chilli, halved lengthwise and deseeded
1 tbsp all-in-one stir fry sauce
1 tsp chilli vinegar
1/2 capsicum, diced
2 tsp cornstarch diluted in 1 1/2 cup of water
1 tsp sugar
Salt to taste
300 grams noodles, boiled and drained
1 hard boiled egg, sliced
Method:
1. Marinate the meat for about 20 to 30 minutes.
2. Meanwhile, grind the tomatoes, red chillies, and shallots. This will  give the meat sauce a sweet and spicy flavour.
3. Heat oil in a wok on high flame. When complately warm, add in the garlic and ginger. Saute for a minute. Quickly, add in the green chillies, and chopped onions. Fry for about 3 mins.
4. Now add in the meat. Fry for about ten minutes. Then add in the capsicums.
5.  Put in your stir-fry sauce, and vinegar. Saute it for about two minutes. Then add the tomato-chilli mixture. Simmer for ten mins. The meat would have almost cooked by now.
6. Once the meat has cooked, add in the sugar, salt, and diluted cornstarch mixture. This gives the meat sauce its desired consistency. Simmer for a while until the meat is done.
Serve on a bed of noodles, garnished with boiled eggs.