Mughlai paneer is paneer (cottage cheese) in a white, creamy gravy rich with cashew nuts, yogurt, and cream. One would think that the dish will be bland since it doesn't have the 'red color' that we associate with red chilies. But the onions and green chilies spice the gravy perfectly. You can add more green chilies if you'd like.

Methi, or fenugreek leaves, is an optional addition and my favorite. It's mild, nutty flavor and soft aroma enhances the gravy and contrasts the white color of the gravy. If you don't have methi on hand, you can skip it. But you should definitely give methi a chance!



Click here

to try other paneer recipes on Cukzy. The

Dhaba Style Paneer Masala

is a must-try.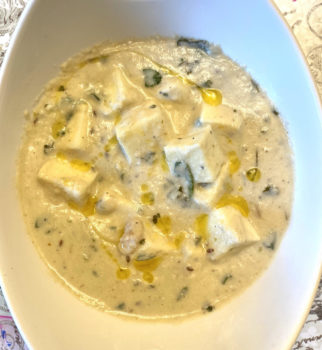 Ingredients for paste:
1 onion, roughly chopped
3 green chillis, chopped (depending on your taste level)
8-10 cashew nuts
1 cup of water

Ingredients for Mughlai Paneer gravy:
2tbsp ghee (clarified butter)
1 cup cubed paneer (cottage cheese)
1/2 tsp garam masala powder
1 tsp cumin seeds
1/2 tsp sugar
1/2 cup beaten yogurt
1 tbsp dried fenugreek leaves (kasuri methi) (you can also use fresh leaves)
1/2 cup cream
A handful of chopped coriander leaves

Method:

1. Add the chopped onions, green chillis, cashew nuts, and water in a frying pan. Cook on medium heat till the onions have softened. Cool and blend into a paste.

2. In a vessel, heat ghee on low to medium heat and add the cumin seeds. Saute for a second. Pour in the onion paste. Cook for about 5-10 minutes. Stir occasionally so that the gravy doesn't stick to the bottom. You may see the ghee separating on the sides or bubbles on top as the oil makes a thin layer.
3. Add the garam masala, salt, and sugar. Stir and cook for 3-5 minutes on low heat.
4. Gradually pour in the beaten curd while stirring constantly. If your gravy is too hot or boiling, move it from the stove and let it settle. Pouring curd in very hot gravy will lead the curd to curdle. Continue to cook once the you have mixed in the curd well.
5. Now add in the paneer cubes and kasuri methi. Stir lightly so that the paneer cubes don't break. Cover and cook on low heat for 3-5 minutes. If your gravy is becoming too thick for your liking, add about 2 – 3 tbsp of water.
6. Turn off the heat and gradually stir in the cream. As if with curd, cream should not be added in very hot gravy. If your gravy is boiling or too hot, let it settle before adding the cream. Mix lightly so all the ingredients have incorporated well. Add the coriander leaves and serve with rotis or naan.