We almost always have curries leftover, many a times with just a few pieces of meat (chicken/mutton). Its "boring" to have the same thing next day at noon, especially when its not fresh. Here are some ways we can spice up the chicken/mutton curry the next day to add a 'freshness' to it and enjoy the recreation. I've tried some in my kitchen, and learnt some from others who believe in the "no waste, create food' policy. Now, the most important part of using up leftovers is adding the appropriate quantity of ingredients. While I'm re-making the leftovers, I constantly taste the dish to make sure it's not too spicy, sour, bland, and so on. The leftovers have their own set of spices and ingredients, so its important to analyse what to add and how much to maintain a balance.
I'd some chicken masala leftover from my afternoon meal. I knew it would be futile to refrigerate such a small quantity of gravy, since it'll be too stale the next day. Had it been a leftover from dinner, refrigeration would've made sense.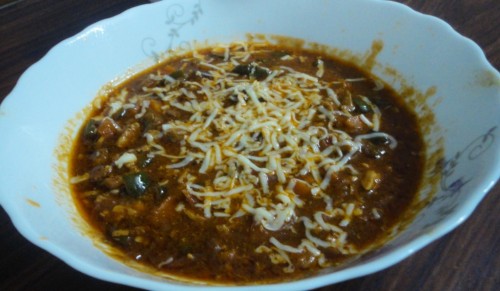 Here's what I did:

Ingredients:
2-3 cloves of chopped garlic
1 cup capsicum. chopped
1 cup carrot, chopped
2 – 3 tbsp of pasta sauce
1 tsp soy sauce
2 tsp chilli sauce (my favourite is chilli garlic sauce by Smith & Jones)
Shredded chicken from the leftover pieces along with a tbsp of the masala
1 tsp cornflour, diluted in 3 tbsp water
Top it with cheese.
Method:
1. In a teaspoon of oil, add in the garlic until soft. Don't brown them.
2. Add in the pasta sauce and soya sauce, and give it a stir.
3. Now you can add in the chicken pieces. Taste and season accordingly.
4. Add chilli sauce just enough to make the sauce a little spicy.
5. Add in the diluted cornflour while stirring. This is optional. I wanted to give the sauce a thick consistency.
Voila! Ready to serve. I combined this with spaghetti.
Note: The chicken masala I had was not curry. It was a regular semi-dry gravy with onions, tomatoes, curd, and spices.