I've always wanted to experiment lamb in my Chinese cooking. In a way I prefer chicken and prawns when it comes to Chinese. The concept of lamb stir fry tickled my thoughts and here is what happened. I decided to make a stir fry with vegetables and lamb. I used lots of vegetables to enhance the colour effect. Trust me, the colour therapy does wonders in presentation and is pretty much essential in Chinese style of cooking. This lamb stir fry is slightly salty and bit more sour, but the spiciness dominates the flavours. Combines perfectly with garlic flavoured noodles, but I opted for garlic-basil fried rice owing to my rice-loving family.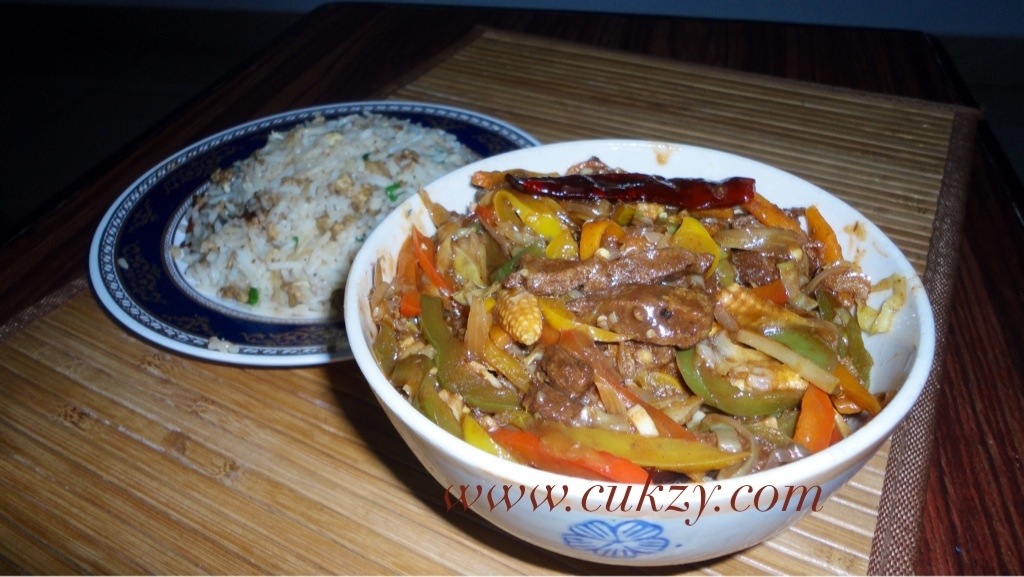 Ingredients:
200 gram lamb/ mutton, boneless
1/2 red bell pepper, thinly sliced
1/2 yellow bell pepper, thinly sliced
1/2 green bell pepper, thinly sliced
1/2 medium-sized onion, finely sliced
4-5 pieces babycorn, diagonally sliced
1 carrot, diagonally and finely sliced
2 dried red chillis, coarsely ground
2 full spring onions, coarsely chopped (chop the onion bulb separately)
3 large garlic cloves, finely chopped
1 tsp freshly grated ginger
Sauces:
1 1/2 tbsp light soy sauce
1 1/2 tbsp oyster sauce
1 tsp of cornstarch diluted in 2 tbsp of water
Method:
1. Cut the lamb pieces lengthwise to make thin slices, preferably diagnol. In a pressure cooker, cook the lamb in a cup of water with a tsp of ginger-garlic paste, a tsp of black pepper powder, and salt. Once cooked, strain the lamb and keep the stock aside for later use.
2. Heat oil in a wok and add the garlic and onions (including the spring onion bulbs). Stir continuously to avoid the garlic from burning. Fry till the onions have softened and are transparent.
2. One by one add in the vegetables starting with the carrots followed by the bell peppers and then the baby corn. Stir and simmer each vegetable for a minute or so before adding the next vegetable.
3. Now add in the meat and the ground chillies. Toss or stir so that the vegetables and the meat are mixed well and the chillies have settled.
4. Add two tsp of the mutton stock. Cover and allow to simmer for five minutes.
5. Add the sauces and the chopped green onions. Pour in the diluted cornstarch.
Stir so that the meat and veggies are coated in the sauces.
Ready! Time to eat. 🙂