And here is the star of all desserts – the cheesecake! Homemade cheesecake is a simple recipe – only that it needs to be done carefully. What I love about the cheesecake is the soft, creamy cheese followed by a crumbly crust. The cheesecake, quite unfortunately, is not a dessert you can make in just a few hours. The perfect cheesecake demands a lot of care and time. This is especially true if you are using homemade cream cheese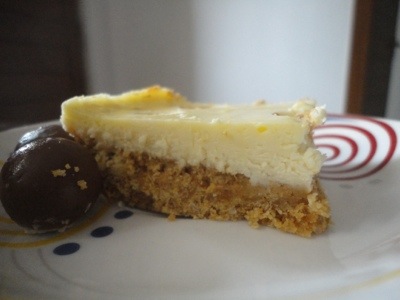 Ingredients:
For the crust:
1 packet of oatmeal cookies (you can use any cookies you like)
2-3 tbsp powdered sugar
1/4 cup cooking butter, melted
For the cheesecake:
400 grams cream cheese
2 tbsp cream cheese spread (this is optional. I used Kraft since it adds to the creamy texture. Any brand would do)
1 cup sugar (powdered)
2 eggs
1 tsp vanilla (optional)
Method:
1. Preheat the oven to 170*C. In a bowl, crumble the cookies. Add in the sugar, little by little checking the sweetness. Add in the melted butter and mix well.
2. In a spring form pan, add in the crumbled mixture. Level it throughout the pan. The quantity of the mixture depends on whether you prefer a thin or a thick crust. Mine is a thick one.
3. Using an electric hand mixer, mix the cream cheese and the cheese spread. Add in the sugar. Mix again.
4. It is important that the cream cheese mixture is lump free before you can add the eggs. Add eggs one by one, mixing each time you add an egg. Be careful to not blend too much.
5. Pour the cheese mixture over the crust and spread evenly.
6. Bake at 200*C for about 20 minutes. The cake will be almost set. Make sure the center is a little moist (it would wiggle a little, but that's okay).
7. Allow the cake to cool down to room temperature before you refrigerate it. If you try to refrigerate the cake even if it is a warm, the crust would get soggy.
8. Refrigerate the cheesecake for 5 hours, preferably overnight.