Peshawari cuisine is a delicious medly of Pakistani and Afghan flavour. Here is one of the most famous recipes from Peshawar. Though karahi gost recipe is not-so-grand Mughlai dish, its still a favourite in many households. Peshawari karahi gosht is a different take on how it is prepared in India.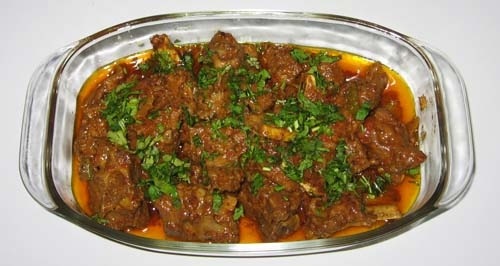 Ingredients:
1/2 cup Oil
1/2 kg Mutton
1 onion, chopped
250 gm chopped tomatoes
2 tsp Chili powder
1 tsp Coriander powder
1 tbsp Ginger garlic paste
1/4 tsp turmeric
1/4 tsp black cumin seeds
1/2 tsp black pepper
1/2 tsp all spice
2 tbsp yogurt
6 chopped green chilies
1 tsp Salt
Method:
1. Heat oil and add mutton, tomatoes, salt, chili powder, ginger garlic paste, chopped onion. Cook on medium heat till meat nearly tender.
2. Add coriander powder, turmeric, black pepper powder, tsp black cumin seeds, all spice. Cook for 10 minutes.
3. Add yogurt and green chilies and fry well.
Garnish with coriander leaves