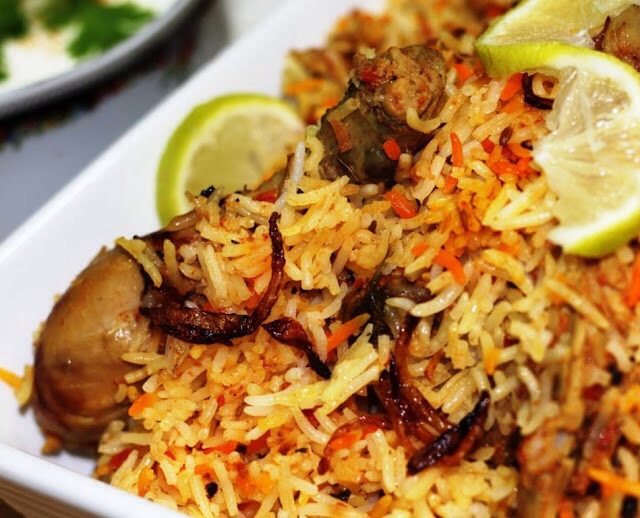 Ingredients:
Chicken 1 k.g
Basmati rice 2 cups
Melon seeds ( chaar maghaz) 1 tbsp
Poppy seeds 1 tbsp
Coconut powder 2 tbsp
Cashew nuts 6-7
Saffron 15-16 strands
Tomatoes 2-3 (blended)
Nutmeg, Mace powder 1/2 tsp
Whole spice powder 1 tsp
Bay leaves 2
Cinnamon stick 1-2
Brown onion 1 cup
Salt to taste
Oil 1/2 cup
Ginger-Garlic paste 2 tsp
Kewra water 2 tsp
For marination:
Yoghurt 1/2 cup
Turmeric powder 1 tsp
Chilli powder 1 tsp
Green chillies 2-3 salt to taste
coriander leaves 1/4 bunch
Marinate chicken with above ingredients and keep in fridge for 1 hour.
Method :
1. In a pan heat oil and add ginger garlic paste. Fry for 2 minutes.
2. Add blended tomatoes and cook till oil separates. Add marinated chicken, brown onion. Make a fine paste of poppy seeds, coconut, chaar maghaz, cashew nuts. Add to the chicken and season with salt. Cook on low medium heat till the chicken is tender and gravy is thick.
3. Boil rice with whole garam masala, salt, and bay leaves till almost done. Add colander. Drain and keep aside.
4. Make a layer of boiled rice in a skillet, and cover it with a layer of chicken gravy. Repeat the layer pattern. Finish by sprinkling mace, nutmeg powder and saffron diluted in 2 tbsp of milk, kewra water, and some more brown onion.
5. Cover and cook on low heat on top of tawa till done. Mix well and serve.