Bhindi, or okra, is one of those vegetables that make cooking 'easy'. A delicious bhindi sabzi is ready within minutes – onions, tomatoes, potatoes, spices, and okra. Likewise, there are a variety of bhindi recipes that are a must-try. My personal favourite is stuffed bhindi – slit the okra length-wise and stuff it with masalas and shallow fried. Dahi masala bhindi is different from the usual bhindi recipes, credit to its ingredients – cashew nuts, coconut, kasuri methi, and of course yogurt. You can have it with roti or rice, adjusting the consistency accordingly. Have fun cooking.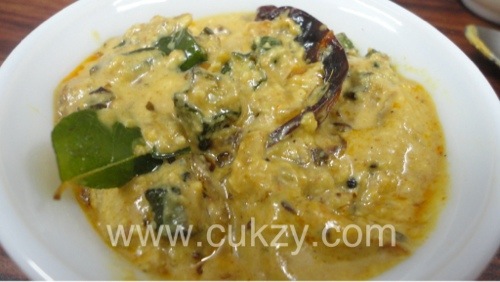 Ingredients:

1 tsp Mustard Seeds
½ tsp Jeera/Cumin Seeds
2-3 Dry Red Chillies, halved
Few Curry Leaves
1 tbsp Oil
Grind to paste:
1 tbsp grated coconut
6-8 cashew nuts (soak in warm milk for 10 mins)
Other ingredients:
3 cups sliced bhindi / okra
1 large onion, finely chopped
2 large tomatoes, finely chopped
1 tsp ginger-garlic Paste
½ -1 tbsp Kasuri Methi/Dried Fenugreek Leaves
1 tsp garam masala
1 1/2 tsp red chilli powder
½ tsp turmeric powder
½ tsp coriander powder
1 cup beaten yogurt
1-2 tbsp Oil
Salt to taste
Method:
1. Fry the bhindi till they turn crisp, for about 7 – 10 minutes. The bhindi should turn slightly brown. Be careful to not over fry them. Keep the fried bhindi aside on kitchen towels.
2. Use 1-2 tbsp of the same oil and heat in a pan. Add the first four ingredients starting with the mustard seeds. When they splutter, add in the cumin seeds, dry red chillies, and curry leaves. Saute for about a minute or two.
3. Add in the finely chopped onions. Fry the onions till they turn golden brown. Then add in the ginger-garlic paste and saute.
4. Mix in all the dry masalas and kasuri methi minute and saute till all the masalas have blended well.
5. Add the chopped tomatoes and mix well. The tomatoes should become soft and mushy. Add in the cashew-coconut paste and stir continuously. This gives the bhindi masala a creamy texture.
6. Add in the yogurt and season with salt and cook for about 5 minutes. Use water to dilute the gravy if its too thick. The consistency of the masala should be creamy instead of curry.
7. Add in the bhindi or okra pieces and give it a gentle mix. Add in a few tbsp of water if the masala is too thick. Adjust seasoning.
Your dahi bhindi masala is ready. Trust me, its one of the delicious bhindi recipes you'll come across.