Here's a favourite, spiced Indo-Chinese rice dish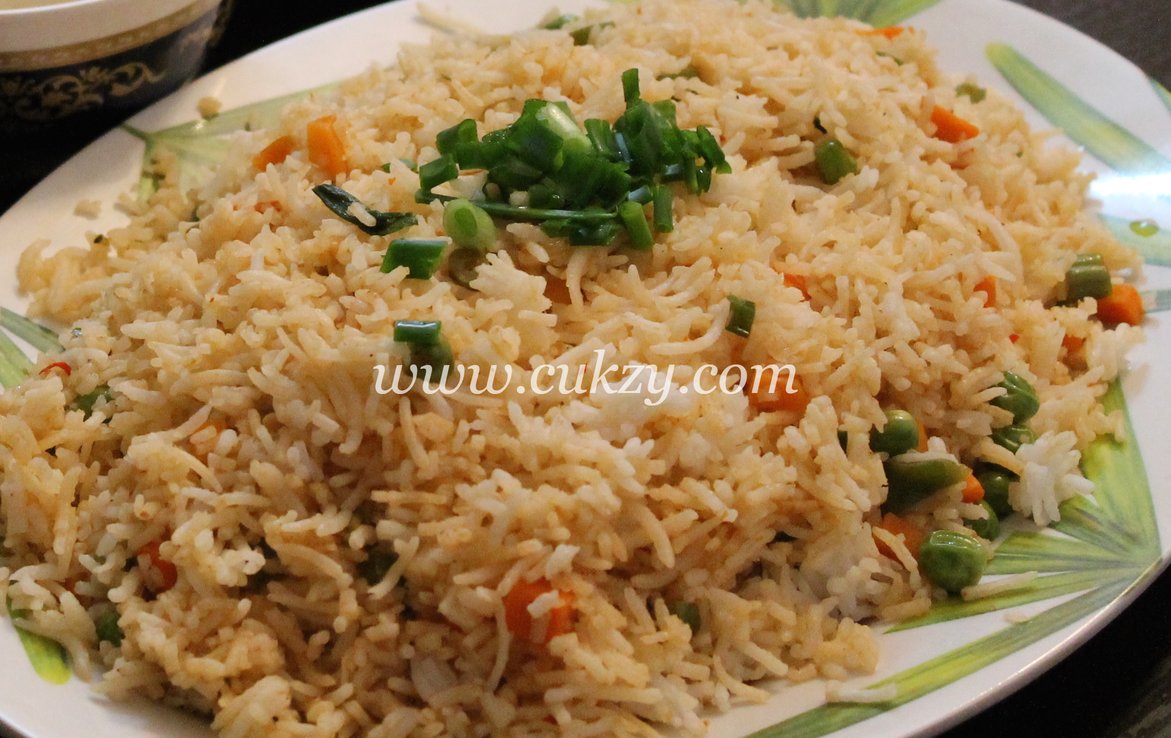 Ingredients:
250 – 300 grams rice
2 tsp finely chopped garlic
1 onion, finely chopped
1/2 cup finely chopped carrots
1/2 cup chopped capsicums
1/2 cup finely chopped french beans
1/2 cup green peas (optional)
1/2 cup chopped spring onions
1 tsp soy sauce
2 tbsp schezwan sauce
1 1/2 tbsp oil
Salt and black pepper for seasoning
Method:
1. Soak the rice for about 10 minutes. Boil about 3 cups of water with a tsp of oil and season with salt. Add the rice and, once done, keep aside to cool.
2. Heat oil in a wok. On medium flame, add the chopped garlic, spring onion bulbs, and onions. Sauté until onions appear soft or translucent.
3. Add in all the vegetable and sauté for about 2 – 3 minutes on high flame. Season with half a teaspoon of pepper.
4. Add the soy sauce and schezwan sauce. Stir. You may add a few teaspoons of water if necessary to soften the vegetables.
5. Reduce the flame to minimum and add the rice. Gently mix the rice so that it is well coated in the sauce. Take care not to break or the grains. Cover and allow to cook for 2 – 3 minutes on low flame.
Serve garnished with spring onions.
Note:
1. For Egg Fried Rice: Beat two eggs with a tablespoon of water. Scramble it in a saucepan until completely done. Add to the rice in the end and gently mix. (Adding beaten eggs to vegetables while stir-frying isn't a good idea since the smell of eggs overpowers the flavor of vegetables and other seasoning)