Vegetable rice has a variety that can always add zest to a simple meal. Pilaf, or pulao, is a healthy and delicious treat all by itself. Carrot and spinach pilaf is a great way to get your family to eat vegetables high in nutritional value. You can always experiment with the vegetables you want to use with rice to suit the taste of your family members.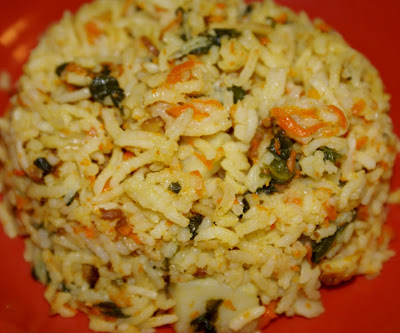 Ingredients:
250 gm basmati rice
1 onion, chopped
½ small aubergine, chopped
2 cloves garlic crushed
2 tbsp oil
25 gm butter
1 – 2 tbsp garam masala powder
2 carrots, grated coarsely
1 litre vegetable stock
100 gm baby spinach leaves
50 gm unsalted cashew nuts toasted
Salt and ground pepper
Method:
In a saucepan, heat the oil and butter together and gently sauté the onions, aubergine and garlic for 5 minutes.
Stir in the rice and cook for a minute and mix in the garam masala.
Add carrot and the stock along with salt and bring to a boil.
Then cover and simmer gently for 10 – 15 minutes.
Gradually stir in the spinach and check seasoning.
Serve sprinkled with cashew nuts.