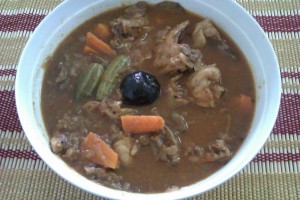 A traditional dish of the Arabian peninsula, Al Marqoq is a wholesome nutritious curry, best complemented with coin-sized parathas (or Arabic bread). This I confirmed when I served rice with Chicken Marqoq this weekend. While the pairing managed to impress my husband, there was still an "it tastes amazing with parathas" comment from my husband. Enjoy this dish.
Ingredients:
1/2 kg chicken, or mutton on the bone
1 carrot, thick and long slices
1 aubergine/eggplant, sliced thinly
2 gherkins, long slices
You can add other vegetables of your choice
1 large onion, finely chopped
1 large tomato, pureed
1 whole dried black lime, pricked
1 tsp garlic-garlic paste
Oil for frying
Spice Mix:
Grind together,
1 tbsp coriander seeds
1 tbsp cumin seeds
1 tsp black pepper corns
1 long cinnamon stick
1/2 tsp cloves
1 tsp ginger powder
4 cardamoms
1 dried red chilli
1 tsp turmeric powder
1/2 nutmeg
Method:
For mutton Marqoq, first wash and boil the mutton. Add whole spices like cinnamon, cardamom, cloves, garlic, and a teaspoon of chopped onion. Sprinkle a teaspoon of spice mix. Cook the meat till tender.
Heat about 2 tbsp oil in a vessel. Add the chopped onion, till the colour changes to golden brown. Now add the meat (either the cooked mutton, or raw chicken), ginger-garlic paste. Stir.
Add the spice mix to the meat and stir. After a minute, add the vegetables. Allow all the spices to cook on slow fire for a minute. You'll love the fresh aroma of the ground spices. Add salt.
Now, add the tomato puree. Cook till a curry is formed. Add the dried lime.
Traditionally, the curry is soupy because it is poured over the khubz or parathas while serving and eating. Here, you can decide the consistency of the curry as you like.