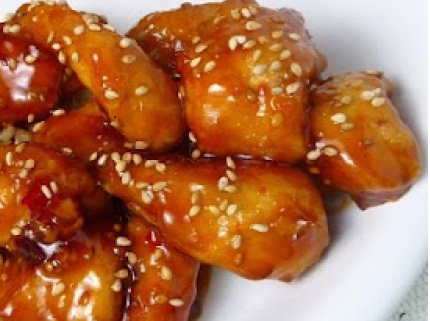 Marination:
2 boneless chicken breasts, cut into 2 inch strips
1 large egg
2 Tbsp cornstarch
1 pinch each salt & pepper
Oil (for frying)
Sauce:
2 Tbsp soy sauce
1 Tbsp water
½ Tbsp sesame oil
1½ Tbsp sugar
1½ Tbsp rice vinegar
1 clove garlic, minced
2 Tbsp sesame seeds
1 Tbsp cornstarch
Method:
In a large bowl, whisk together the egg, cornflour, and a pinch of salt and pepper. Toss the chicken in the egg and cornstarch mixture. Marinate for 20 minutes.
Heat a large skillet with vegetable oil over medium-high heat. Deep fry the chicken until it is golden brown and cooked through (about 7-10 minutes). Drain off the excess oil.
Prepare the sauce. In a small bowl stir together the soy sauce, water, sesame oil, brown sugar, rice vinegar, minced garlic, cornstarch, and sesame seeds.
Heat a tbsp of oil in a wok and pour in the sauce. Cook till the sauce thickens. Mix in the honey.
Place the chicken in the sauce and toss to coat the chicken in the sauce.