Croquettes have been my mother's signature dish. I've loved it and, quite inevitably, I have learnt to make them. It's a must on the dining table for iftar during Ramadan. It is also my favourite pick when I have guests. Chicken croquettes use boiled, shredded chicken and maida. Croquettes are crispy on the outside and soft inside. Have fun with this croquettes recipe!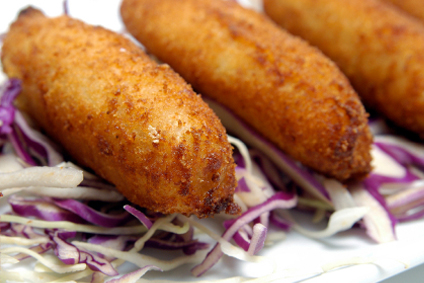 Ingredients:
300 grams chicken breast, boiled and shredded
50 grams butter
5 green chillies, chopped and deseeded
1 medium onion, chopped
50 grams maida (all purpose flour)
3/4 cup milk (optional)
3/4 cup chicken stock
2 eggs
Bread crumbs to coat
Oil to deep fry
Method:
1. Boil chicken with ginger-garlic paste, and salt. Cool and shred. Keep the stock aside.
2. Heat butter, and fry the green chillies and onions till slightly pink.
3. Now, add in the maida. Cook till the flour loses its rawness.
4. Add in the shredded chicken and season with pepper and salt. Mix well.
5. Gradually, pour in the stock while stirring continuously. The mixture will have the consistency of a thick, gooey paste.
6. Add in the milk. Stir for a while till everything is well-blended. Allow the mixture to cool.
7. Shape small quantities of mixture into croquettes. Dip them in beaten egg and roll in the bread crumbs.
8. Deep fry till golden brown. Drain on kitchen towels.
Your chicken croquettes are now ready! Serve with dip or ketchup.