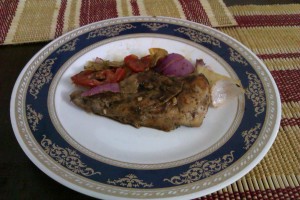 Steak recipes traditionally are of lean beef. The chicken alternative, however, is healthier, and quick to plate. Steaks are not only a favourite summer dish, but are a treat for both kids and adults. There are a variety of ways to prepare chicken steaks, one of which we bring to you.
You will need:
Boneless chicken breasts – 1/2 kg
Cherry tomatoes, sliced – 250 grams
Shallots, sliced – 250 grams
Baby potatoes, sliced – 250 grams
Oil for greasing
Olive oil – 2 tsp
For the marinade:
BBQ sauce – 1/4 cup
Worcestershire sauce – 3 tbsp
Black peppercorns, crushed – 1 tsp
Cinnamon powder – 1/4 tsp
Garlic cloves, chopped – 4 cloves
Lemon juice – 2 tbsp
Method:
Slice through the chicken breasts horizontally. Make incisions across the chicken breasts, and leave it in the marinade for one hour.Pour olive oil over the vegetables and toss to mix.
Meanwhile, bake the baby potatoes. You will have to thinly slice the potatoes to ensure they are evenly cooked. Bake them at 180 degrees for 15 to 20 minutes.
Grease a grill pan with oil. Place the marinated chicken pieces on the pan, and pour the remaining marinade over it. Grill the steaks till tender.
When you flip the steaks, add the shallots, tomatoes, and baked potatoes. Grill till the chicken is done.
Serve!