Bread rolls is one of the favourite Ramadan recipes. It is kind of simple, but boiling and mashing the potatoes always seems to be a tiring and boring job. Bread rolls is definitely a good treat apart from kababs and maida covered fried items. Two things are important when making bread rolls : the right amount of dampness of the bread slices, and the temperature of the oil when frying. Just watch out for these and you'll have a great dish to serve on the iftar table. You can make veg bread rolls by adding green peas, corns, and capsicums.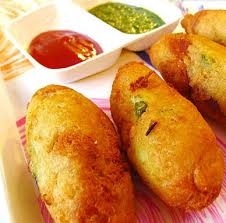 Ingredients:
2 chicken breasts, boiled and shredded
3 medium sized potatoes, boiled
15-20 bread slices
3/4 tsp black pepper
1/2 tsp red chilli powder
pinch of garam masala
pinch of chaat masala
1 tsp of finely chopped and deseeded green chillies
Salt
2 eggs, beaten
Method:
1. Cut off the sides of the bread slices and use them to make bread crumbs.
2. Mash potatoes.
3. Make the batter. Mix the chicken, potatoes, masalas, and green chillies. You can add green peas, corns, capsicums according to your preferences.
4. Make sure your hands are clean. Wet your hand and press on the slice of bread. The bread has to be pressed slightly with a damp hand or it may break during the stuffing.
5. Place a heaped tablespoon of the stuffing in the centre of the bread. Gently roll the slice of bread and press it firmly between the two hands so it wouldn't open while frying. Be careful about not making the roll too wet. It should be slightly damp.
6. Heat the oil. Dip the bread rolls in the beaten egg, roll them in the bread crumbs, and fry. The oil should be hot enough to quickly fry the bread roll. If the oil isn't hot enough, the bread rolls will become soggy and will have absorbed too much oil. The frying process should be a matter of a few seconds.
Fry till golden brown and serve! 🙂