Apart from seafood, pumpkin curry was one of the many delicacies I enjoyed during my visit to Sri Lanka. Pumpkin curry may be an unusual dish in many countries, but a popular vegetable in Sri Lanka. From what I had, the Sri Lankan pumpkin curry is creamy and perfectly spiced. Trying it in my kitchen was in my mind, and I started hunting for recipes which seemed closer to what I had tasted. This pumpkin curry recipe made my day and is now on my favourite vegetarian dishes. This is a vegetable curry that is a must-try. It may sound quite unusual, but its important to taste a dish before judging. Try out this pumpkin curry recipe and let me know how it was!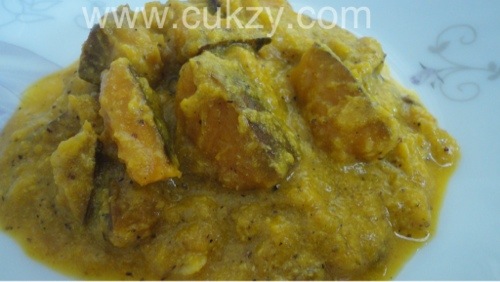 Ingredients:
2-3 cups of pumpkin
1 small onion chopped
9-10 curry leaves
1 cinnamon stick
1/2 tsp turmeric
1/2 tsp fenugreek seeds
1/2 tsp of red chili powder
1-2 green chilies sliced
1 1/2 cups of water
1-2 tsp of sugar
To grind:
2-3 Tbs of dessicated coconut
1 tsp mustard seeds
8-10 black pepper corns
2-3 cloves of garlic
1 cup of fresh milk (or canned coconut milk)
Method:
1. Wash the pumpkin well and discard the seeds. Cut it into large pieces. Generally, the skin isn't peeled out since it becomes tender enough to eat while cooking. Depends on preference though.
2. In a large vessel, pour in the water and add the pumpkin along with the onion, curry leaves, fenugreek seeds, turmeric, sugar, salt, red chilli powder. Allow it to boil and then cook till the pumpkin becomes tender. The pumpkin shouldn't be mushy and break off.
3. Grind the listed ingredients to a coarse paste. Add this to the curry and simmer for 10 minutes. Add a tbsp of dessicated coconut to thicken the curry and enhance the colour and texture.
Simmer till the curry becomes thick. Pumpkin curry tastes great with plain rice.