Curry Patta Gosht gives me the South Indian vibes. Perhaps because curry leaves are native to South India and a staple ingredient in almost every dish. You can try this recipe with chicken as well or give it a vegetarian spin with paneer. I've cooked this dish twice in different way. The first time, I added the marinated mutton and other ingredients to the oil tempered with curry leaves. The second time, I reversed the steps. I was trying to figure out which method allows the dish to be dominated with the taste and aroma of curry leaves. I'm sharing the curry leaf mutton recipe that does justice to it's name.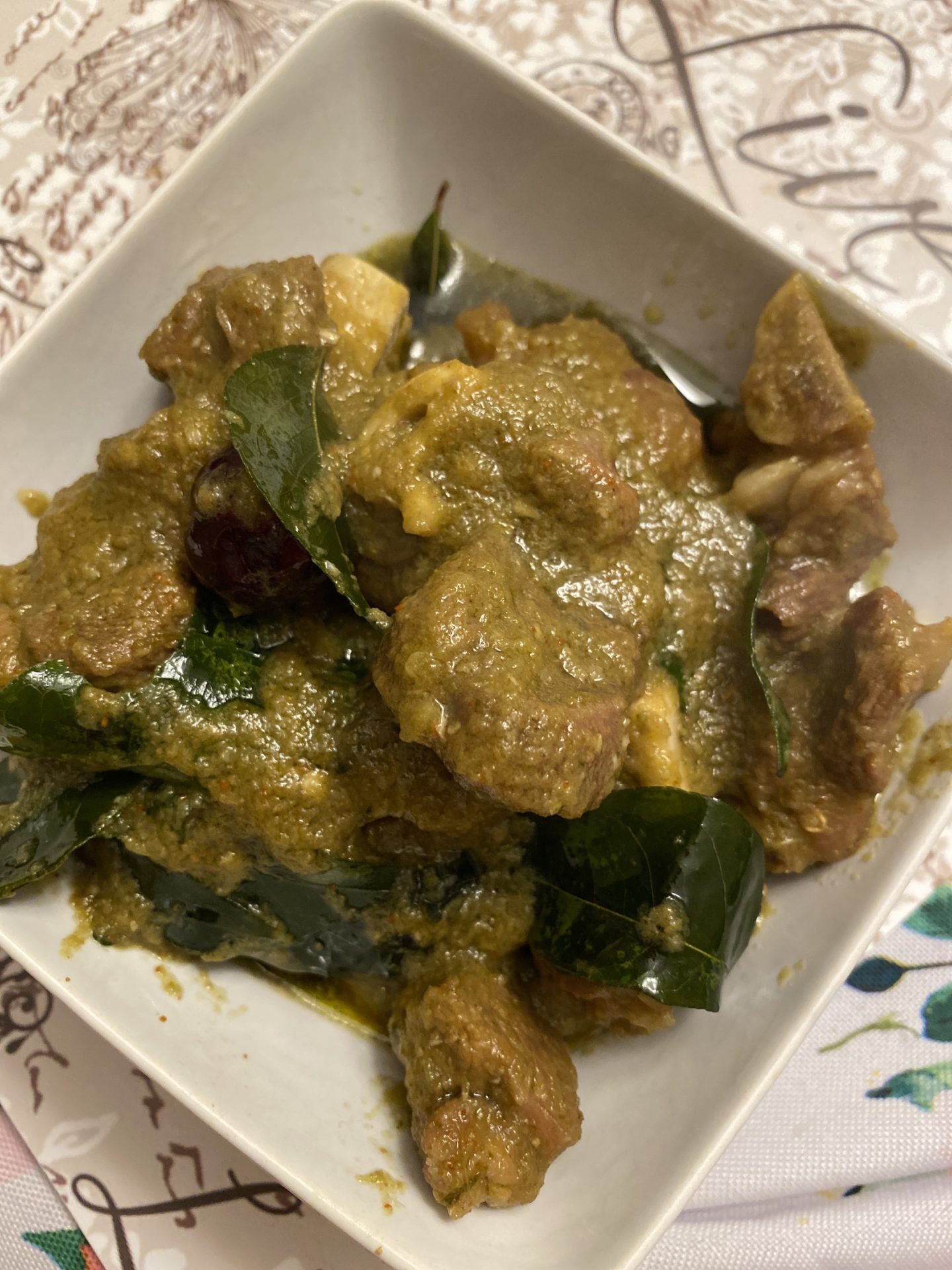 Ingredients:
500 grams mutton on the bone
1 tbsp ginger garlic paste
2 tsp red chili powder
1 tsp salt
1/2 cup oil
1 cup ground onion
2 tbsp chopped coriander leaves
5 green chilies, finely chopped
For tempering:
1/4 cup oil
8 whole button red chilies
15- 20 curry leaves
Method:
1. Marinate mutton with ginger garlic paste and red chili powder. Keep aside in the fridge for minimum one hour.
2. Heat ½ cup oil. Add the mutton, ground onion, coriander leaves, salt, and green chilies. Fry the ingredients for 10 minutes, mixing continuously.
3. Pour enough water to cook till the mutton is soft. Once the mutton is done, simmer till the oil surfaces and the gravy becomes thick.
4. In a frying pan, heat 1/4 cup oil and add the red chillies and curry leaves. Sautée for 10 seconds. If the pan is too hot, turn off the flame to avoid the curry leaves from burning.
5. Add the tempering to the hot gravy and cover immediately. Let it sit for 5 minutes.
I love to pair this with parottas. You can serve it with rotis as well.