Here's another variant of Sheer Khurma and is quite distinct since it uses talmakhana and coconut. These ingredients make the sheer khurma a very rich dessert.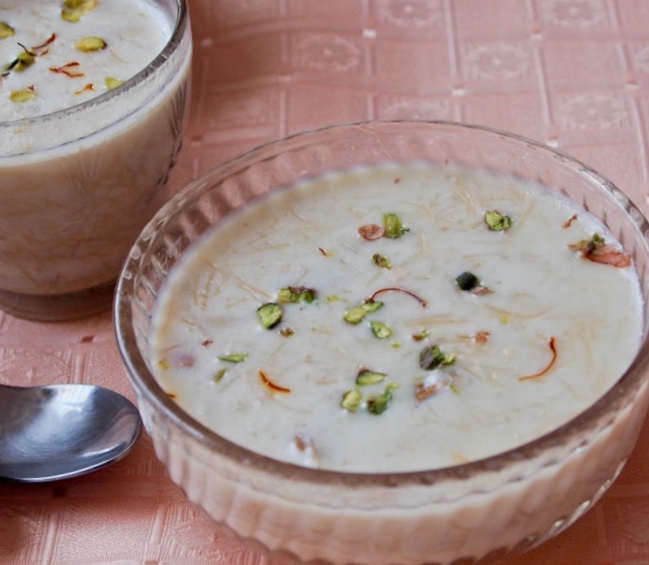 Ingredients:
250 grams Vermicelli
1 litre milk
1 cup dates
100 grams talmakhana, chopped (phool makhana, lotus fruit/seed)
1 cup almonds, sliced
1 cup cashenuts, roughly chopped
1 cup chironji
1/4 cup kishmish/ dry raisins
150 grams khoya (mawa)
1/4 cup sugar
1 cup coconut, grated
2 cloves
2 cardamoms
Few strands of saffron
A pinch of cardamom powder
8 – 10 pistachios, coarsely chopped
Method:
1. Lightly crush the vermicelli. Heat the ghee in a wok/ kadhai and sauté with cardamom green and cloves. Add vermicelli and roast it till light golden brown in color. Keep it aside.(Vermicelli roast very quickly so be careful to prevent from burning)
2. In a separate vessel, heat ghee and add the chopped dates. Fry it for about 30 seconds. Add chopped talmakhana and cook for about 30 more seconds.
3. Add kishmish, almonds, cashews, chirogi and crumbled khoya. Mix it well and cook for about 1 minutes on medium heat.
4. Lastly add coconut and mix it and cook for about 15 seconds.
5. Then add roasted vermicelli into wok and mix all the ingredients well and keep it aside.
6. Boil the milk in a pan or kadhai and let it boil on medium heat for about 5 minutes or till the milk thickens. Add sugar and cardamom green powder.
7. Add a cup dry roasted vermicelli mixture to the milk. Cook it on medium heat for about 5 minutes.
Garnish with pistachio and saffron and serve warm or cold.