And again, an easy chicken recipe. Kung Pao Chicken is one of my favourite orders at a chinese restaurant. Quite obviously, I've tried it in my kitchen too. Kung pao chicken is a chinese chicken stir fry recipe that uses peanuts or cashewnuts. You can add in water chestnuts too for added flavour, though they are optional. Here is kung pao chicken recipe for you to try out  restaurant dish at home.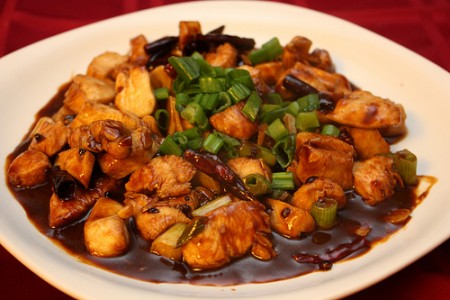 Ingredients:
500 grams chicken breasts, cut into chunks
4 green onions (bulbs of spring onions), chopped
2 tsp sugar/ brown sugar
100 grams peanuts or cashew nuts
2 tbsp sesame oil
2 tbsp cornstarch diluted in 2 tbsp water
1 tsp white vinegar
2 tbsp soy sauce
1 tbsp chopped garlic
1  tbsp hot chilli paste
Method:
1. Marinate the chicken pieces in 1 tbsp soy sauce, 1 tbsp oil, and 1 tbsp cornstarch (diluted). Coat chicken pieces well in marinade. Refrigerate for half an hour.
2. In a small bowl, combine 1 tbsp soy sauce, 1 tbsp oil, 1 tbsp cornstarch (diluted), chilli paste, vinegar and sugar.
3. Now add the green onions, garlic, and peanuts.
4. Saute chicken in a wok till tender and the marinade sauces separate.
5. On medium flame, heat sauce in a medium skillet till aromatic.
6. Add in the sauteed chicken and simmer till sauce thickens.