Kofta curry, or meatball curry, is a delicious variant from the Mughlai cuisine. Koftas, also called meatballs, are made with various ingredients to suit the vegetarian and non-vegetarian palates. Here is a kofta curry recipe that will bring peace to the soul of those looking for easy curry recipes. This kofta curry recipe uses minced meat, and is simple to follow. Bring a different curry to your table today! Enjoy!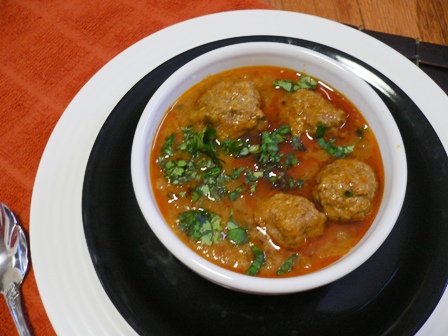 For the koftas:
500 grams minced mutton
2 tbsp finely chopped coriander leaves
7-8 green chillies, finely chopped
5 almonds, blanched and peeled
1/2 tsp garlic paste
2 medium onions, finely chopped
1 tsp red chilli powder
1/4 tsp garam masala powder
Pinch of turmeric powder
1/2 tsp salt
1/3 chana dal, roasted and powdered
1-2 tbsp yogurt, if required
For the curry:
5 tbsp oil
2 cloves
4 cardamom pods
3 cinnamon sticks
2 medium onions, finely chopped
3 medium potatoes, quartered
1/2 tsp ginger paste
1 1/2 tsp garlic paste
2 tsp red chilli powder
1 1/2 tsp coriander powder
1/4 tsp turmeric powder
1/4 tsp garam masala powder
1 1/2 tsp salt
2 medium tomatoes, pureed
1 cup yogurt
2 tsp lime juice
1/4 tsp saffron soaked in 2 tbsp warm milk
Method:
For the koftas:
1. Wash the mince and squeeze out all the water. The mince meat must be dry.
2. Apart from the chana dal, mince meat, and yogurt, grind all the other ingredients in a food processor. Do not add water. Add yogurt if the mixture is too dry.
3. Add the ground paste to the dry minced meat, along with the roasted chana dal. Mix well.
4. Make small balls and keep aside.
For the curry:
1. Heat oil in a pan. Add in the whole spices, onions and fry till golden brown.
2. Add ginger and garlic pastes and saute for about two minutes.
3. Now, add in the spice powders. Stir well. Sprinkle a few drops of water to avoid the spices from sticking to the bottom.
4. Add the tomatoes. Simmer till oil separates and a masala is formed.
5. Pour in beaten yogurt and stir. Bring to a boil.
6. Add in the meatballs. Do not stir. Allow to cook for at least ten minutes.
7. Once the curry and meatballs are completely cooked, add in the lime juice. Add the saffron milk and cook the curry till desired consistency.
Your kofta curry is now ready. Garnish with mint and coriander leaves and serve!