Gobi Manchurian – another of my (successful) experiments with vegetarian Indo-Chinese. I personally detest cauliflower, but gobi manchurian is one dish that makes me buy this vegetable 🙂 The recipe is quite similar to that of baby corn manchurian. Gobi manchurian is a delicious starter and, by making a gravy-style sauce, can be a great main course. Many recipes use green chilli paste when coating the florets. I've not tried that recipe yet, but I will soon. For now, this is the gobi manchurian recipe I'd like to share with you. I'm quite sure you're going to enjoy it!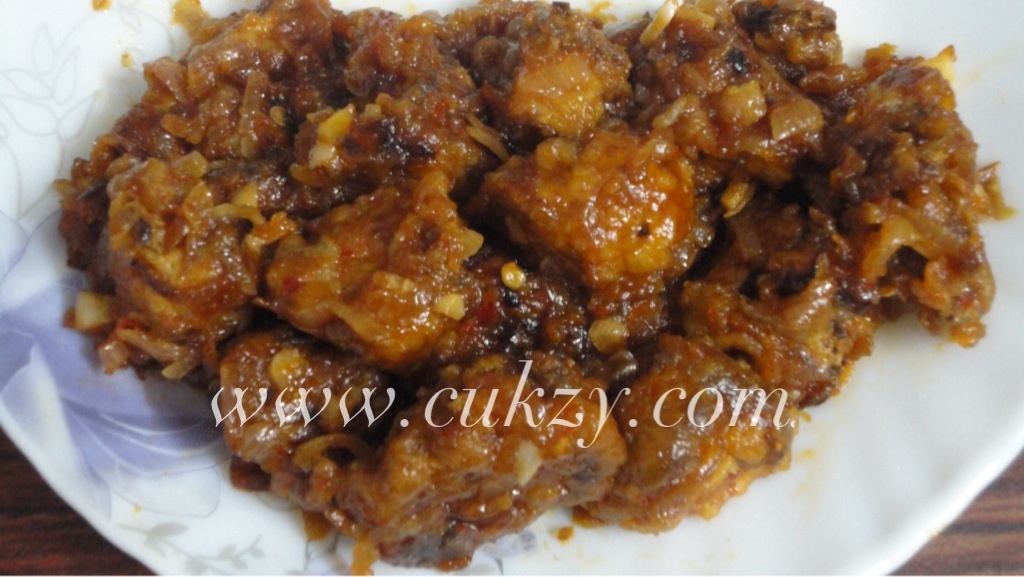 For the batter:
15 cauliflower florets
3 tbsp maida
2 tbsp cornflour
1 tbsp rice flour (optional)
1 tsp red chilli powder (I like using tobasco sauce)
Water to make a batter and salt to taste
For the sauce:
1 medium-sized onion, chopped
1 tbsp garlic cloves, minced
1 1/2 tbsp soya sauce
1 tbsp red chilli sauce/ garlic chilli sauce
3 tbsp tomato ketchup
1 tbsp cornflour, diluted with 3 tbsp water
1-2 tbsp spring onions, chopped
Salt
Method:
1. Prepare the batter. The batter should have thick consistency so that it coats the florets.
2. Deep fry the cauliflower florets on medium flame. This helps the florets to cook without burning the coating. Once the florets have turned brown, drain on kitchen towels.
3. In about a tablespoon of oil, add the garlic, green chillies and onions. Stir continuously to avoid the garlic from burning. Fry till the onions have softened and are transparent.
4. Add in the sauces one by one along with salt and black pepper. Allow to simmer on low flame so that the sauces have blended well.
5. Add in the diluted cornflour. Stir and add the fried gobi. Simmer for about 2 minutes.
Garnish with spring onions.
Note:
Cornflour thickens the consistency of the gobi manchurian sauce. This way the cauliflower florets absorb the sauce well and quickly without becoming soggy or too moist and losing the crispiness.
Its better to add the florets just before serving. Also, a lot of gobi manchurian recipes don't use cornflour. Instead they just add in a little water.