Butter Chicken is our favorite order at the restaurant. Legend has it that the dish was created 'accidentally' – a chef trying to prepare a dish with leftover tandoori chicken for a VIP who dropped by way after dine-in hours.
The tandoori chicken and kasoori methi (dried fenugreek leaves) are the soul of butter chicken. Marinate the chicken overnight or a minimum of an hour. If you have the luxury of time, grill the marinated chicken in the oven. Alternatively, you can fry the marinated chicken in oil and butter till the chicken is tender and turns golden brown.
I usually use the store-bought butter chicken masala but, given the 2020 pandemic lockdown, I have a lot of time on hand. So, I'm going to cook this from scratch. Hope you enjoy!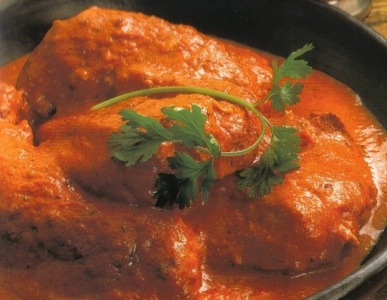 Ingredients for Marination:
1 kg chicken, boned/boneless
1 1/2 tbsp ginger-garlic paste
1 cup yogurt
1 tsp red chilli powder
1 tsp salt
3 green cardamoms
Marinate the chicken with all the ingredients except the cardamoms and refrigerate for a minimum of one hour.
Ingredients for Butter Chicken Gravy:
2 tbsp oil
3 – 4 tbsp butter
2 onions, ground to paste
1 tbsp red chilli powder
1/2 tsp garam masala powder
1/2 tsp salt
1 tbsp kasoori methi
1/2 cup cream
1-2 green chillies, finely chopped (optional)
Handful of coriander leaves
Grind to fine paste:
3 green cardamoms
1/4 tsp mace powder (javetri)
1/2 inch cinnamon stick
15-20 cashewnuts
4 tomatoes
Method:
Chicken:
1. Heat a saucepan and add oil and butter. The oil prevents the butter from burning.
2. Add in the cardamoms and the marinating chicken. Mix well so that all the chicken pieces absorb the butter.
3. Cook the chicken till it is completely done and all the liquid from the yogurt has dried up. Sear the chicken for a few minutes.
Gravy:
1. Heat a saucepan and add about 2 tbsp oil along with the butter.
2. Add the ginger-garlic paste and onion paste. Sauté till the onion paste turns light golden and doesn't smell raw anymore.
3. Pour in the tomato purée, red chilli powder, salt, and garam masala.
4.  Stir continuously on low heat for about 10 minutes or till oil separates. Add a few teaspoons of water if needed.
5. Add the chicken to the gravy. Mix well to coat all the chicken pieces with the gravy.
6. Add the kasoori methi and the cream. Mix well. Add 1 1/2 cups of water, cover and simmer on low heat for about 10 minutes.
7. Turn off the flame and add the coriander leaves and green chillies. Cover and let it stand for 1-2 minutes.
It's all set! Pair it with naan and gobble it down!