Butter Chicken is our favourite order in the Mughlai cuisine whenever we visit a restaurant. We gorge on it, and then try to figure out its ingredients – especially the 'secret one'. We attempt to churn out the perfect butter chicken at home, and there is always something missing. That 'something' is often the overnight marination of the chicken and cooking it in the tandoor. The legend of butter chicken has it that the dish was created 'accidentally' – a chef trying to prepare a dish with leftover tandoori chicken for a VIP who dropped by way after dine-in hours. The tandoori chicken is the secret ingredient with kasoori methi, or dried fenugreek leaves, enhancing the taste. Let's try the butter chicken – this time the legendary way!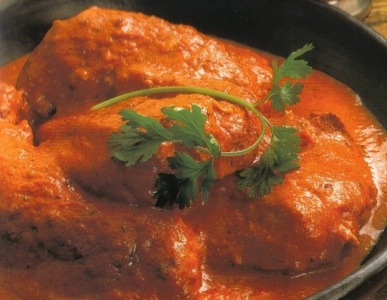 Marination
500 grams chicken, with/without bones
200 grams yogurt
1 teaspoon chilli powder (Optional:you can also add a spoon of tandoori masala)
1 teaspoon ginger-garlic paste
Pinch of salt
For the gravy:
75 grams butter
1 tsp olive oil
4 large tomatoes, pureed
1 tsp red chilli powder
1/2 tsp coriander powder
Pinch of garam masala powder
1/2 tsp of sugar
1/2 tsp black cumin
100 grams cashews, made into paste
1/2 teaspoon kasuri methi (dried fenugreek leaves)
2 tablespoon fresh cream or clotted cream
Method:
1. Marinate chicken in yogurt and the other spices for at least 3 hours. Traditionally, the chicken is marinated overnight. Lightly cook the chicken in tandoor. Alternatively, you can pan fry the chicken lightly.
2. Heat butter keeping a tablespoon of it aside. Add olive oil to prevent the butter from burning.
3. Add in the black cumin seeds, tomato puree, salt, sugar, red chilli, coriander, and garam masala powder.
4. Add the cooked chicken to the gravy. Add in a tbsp of butter. Allow the gravy to simmer on low flame till oil separates.
6. Add the fresh cream and cashew paste.
7. Soak the kasuri methi in little water. Drain the leaves and add to the gravy.
Serve. Garnish with coriander leaves