paneer dish

Posted on by Nadia Asif

Here is a simple paneer starters recipe. You can say this is paneer tikka on a pan! The paneer can easily be substituted with chicken or fish.
Ingredients:
600 grams paneer
150 grams hung curd
1/2 tsp garam masala powder
1 tsp cumin powder
2 tbsp Kashmiri red chilli paste
1 1/2 tsp chilli …

Posted on by Nadia Asif

Paneer pasanada is the vegetarian alternative to the pasanda dish of Awadh. It is one of the most sought after vegetarian dish with one of the richest vegetarian ingredients.
Ingredients:
400 grams paneer
150 grams curd
50 grams poppy seeds
25 grams chironji
25 grams dry coconut
8 cashewnu…

Posted on by Umairah Merchant

Ingredients:
500 gm paneer (cottage cheese)cut into 1 ½ inch squares and a ½ inch thick
Marinade:
½ cup yogurt
2 tbsp oil
1 clove garlic crushed
½ inch ginger piece, grated
½ tsp red chili, chopped
½ tbsp lime juice
1 tbsp coriander chopped
¼ tsp garam masala
Salt to taste
Me…

Posted on by Nadia Asif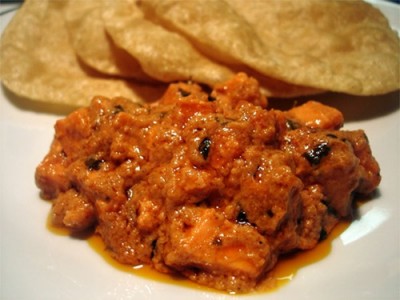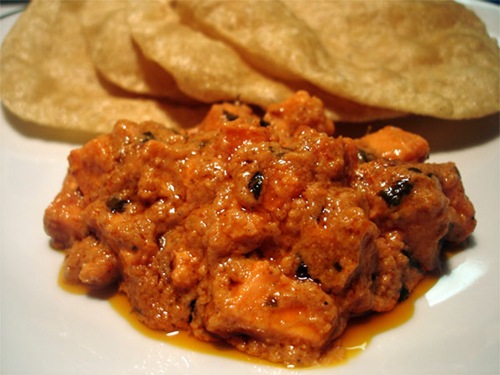 Paneer recipes are rich vegetarian resort to a meal. Paneer tikka masala is a simple vegetarian recipe that has beautiful colours, rich texture, distinctive aroma, and a divine taste. Paneer tikka masala tastes even better with home-made paneer. The tikka masala can be used for other ingredients …

Posted on by Umairah Merchant

Ingredients:
½ kg chopped tomatoes
2  tsp red chili powder
1 tbsp sugar
Salt to taste
¼ cup pure ghee
2 tbsp chopped ginger
1 tbsp chopped green chilies
1 cup cashew nuts
200gm paneer cut into 3 cm cubes
1 cup capsicum cut into 2-3 cm cubes
1 tsp cumin powder
1 tsp coriander powde…