Dahi kadhi is a delightful vegetarian treat. It is an easy vegetarian recipe, a simple dish, yet delicious. However, while preparing kadhi, one needs to be alert as kadhi calls for constant attention. Here is a simple make-at-home recipe for dahi kadhi with onion pakoras.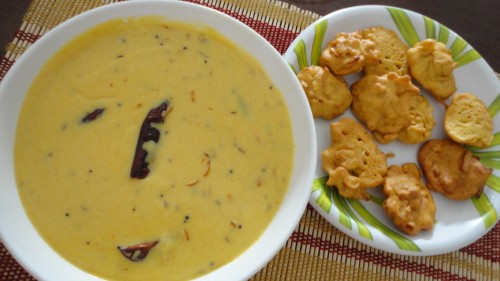 Ingredients:
For Kadhi
750 ml yogurt
1/2 tsp turmeric powder
3 cups water
1/4 cup gram flour (besan)
1 tsp red chilly powder
1 tsp salt
For the tadka (tempering):
3 tbsp oil
1 tsp cumin seeds
1 tsp mustard seeds
2 dried red chillies, broken into half
1/2 tsp garlic paste
6 to 8 curry leaves
For the Pakoras:
1/2 cup gram flour (besan)
1/2 onion, finely sliced
1 tsp red chilly powder or 2 long green chillies (chopped and deseeded)
1 tsp salt
2 tsp coriander leaves
1 tsp mint leaves
Oil – for deep frying
Method: 
1. Start with the kadhi. Beat the yogurt well and add in the gram flour, water, turmeric powder, red chilli powder, and salt. Mix well so that no lumps remain.
2. In a heavy bottomed non stick vessel, add in the mixture. Cook on low flame and keep stirring constantly.
3. Once the mixture is boiling, simmer for about half an hour. If the mixture is becoming lumpy, add in water. Cook till the rawness of the gram flour goes away.
4. Meanwhile, prepare the pakoras. In a bowl, mix all the ingredients for pakoras. The mixture results in a thick batter.
5. Heat oil for deep frying. Carefully, drop in spoons-full of the batter into the oil. Fry till golden brown. Drain on kitchen towels.
6. Prepare the tadka. Heat oil in a frying pan. Add cumin seeds, msutard seeds, and curry leaves.
7. Once they splutter, add in the garlic paste and red chillies. Saute for a minute and keep aside.
8. Check the kadhi. The consistency should be that of a gravy – not too thin nor too thick. Once the raw smell of the besan have gone, the kadhi is done.
9. Add in the pakoras to the kadhi and simmer for two minutes. Temper it with tadka.
Your Dahi Kadhi with Pakoras is ready to serve!