Bitter-gourd recipes are generally side dishes eaten with rotis, or are gravy prepared with meat and eaten with rice. Bitter-gourd, also known as bitter melon or melon gourd, is botanically classified as a fruit – with its bitter taste! That pretty much breaks our belief of fruits being sweet. Bitter gourd is, however, used as a vegetable in many cuisines and, in some parts of the world, is known for its ripe fruits. Not a favourite with many, the health benefits of bitter gourd make it a compulsory inclusion in our diet. Chef Jawad brings us an interesting bitter gourd recipe – a bitter gourd candy.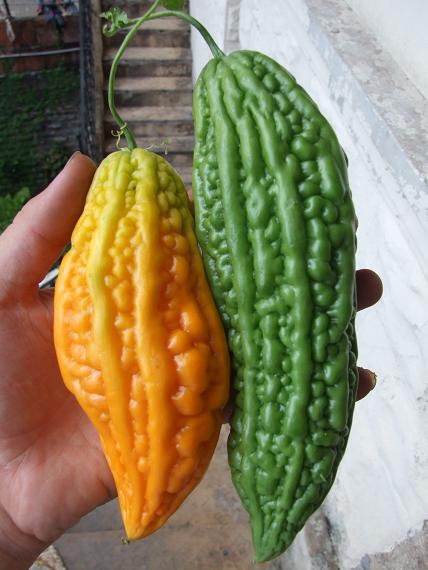 Ingredients:
Bitter-gourd                       1 no.
Brownsugar                        150 gms
Rock Salt                              300 gms
Honey                                   100 ml
Vanilla Ice Cream             250 ml
Mint Leaves                       5-6
Method
1.       Scrape the skin of bitter-gourd. Cut roundels and remove the seeds.
2.       Take ice water, add in the salt, and soak the bitter-gourd. Keep air-tight or apply pressure on top and chill for 6-8 hours.
3.       Remove and wash under running water till the salty flavor is completely washed off.
4.       In a non-stick pan, caramelize the sugar. Add in the bitter gourd pieces – few at a time – and sear on both sides till tender.
5.       Remove and chill in chiller.
6.       Serve with scoop of vanilla ice-cream, honey and mint.
Note: Alternately, before searing in caramelized sugar, you can also give a boil in sugar syrup. In this case, the biter gourd can be seared in a little butter (no sugar).